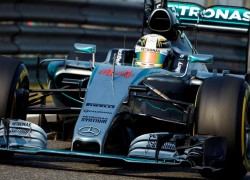 Formula 1 is the biggest patience game you're ever going to play. From Mercedes' response, to Ferrari's progress, to McLaren's struggles, all of it requires buckets loads of determination and persistence.
Mercedes showed a bona fide champion's mentality after being beaten at the Malaysian grand prix. As speculation about strategies, tyre performance and pace dominated the lead up to the Chinese grand prix the Mercedes F1 team always maintained a sense of calm. Yes, a possible re-think of strategy was considered but it was done in a calculated and controlled manner.
Lewis Hamilton firmly embodied these qualities as he dominated the entire race weekend. Every single session was headed by the double world champion and capped with a well measured Chinese GP victory. The race didn't ever reach the dramatic levels of two weeks ago but Hamilton's control of proceedings reaffirmed that Mercedes still holds a sizeable advantage over Ferrari.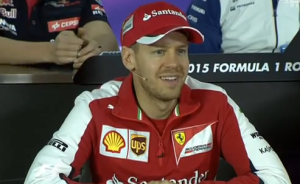 The first stint of the race was a relatively close affair as the two Ferrari's of Sebastian Vettel and Kimi Raikkonen were able to maintain the pace of Mercedes.
It soon became clear however that Hamilton was merely controlling his pace and seemed to have quite a bit in hand when he needed it. He emerged from the first round of pitstops with a comfortable six second gap to teammate Rosberg who had seemingly settled for second place.
Sebastian Vettel was able to apply some early pressure to Rosberg but was unable to level a real threat on second place.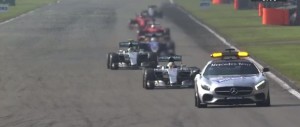 Meanwhile, Kimi Raikkonen, who had made short work of both Williams drivers after qualifying sixth, exerted sustained pressure on Vettel for the final step of the podium. However, the retirement of Max Verstappen's Toro Rosso on the main-straight dictated that the race, disappointingly, came to an end behind the safety-car.
The virtuous quality of patience was called for by Raikkonen as the Ferrari team continue to forge their way to the front of the grid. "We didn't expect to be strong here [in China]. We're going to get closer and we're going to catch them at some point. We have to be patient," said Raikkonen.
A serious amount of patience will be called for at McLaren Honda for 2015. Both Jenson Button and Fernando Alonso struggled through the weekend with balance issues, amongst others, and ultimately failed to advance beyond the first part of qualifying. It didn't get much better in the race as both cars were lapped by Mercedes and Ferrari. The drivers are still optimistic about the long-off future of the car but you have to wonder for how much longer Button and Alonso will be happy to tow the company line of "making important progress" before they too get fed up. This certainly doesn't mean that either driver will stop pushing but it's the subtle difference in attitude that can have a telling effect on the entire operation. After all, just look what a change of attitude has made to the atmosphere at Ferrari.
Valtteri Bottas and Felipe Massa completed an anonymous run to the flag for Williams and finished a solid, but unspectacular, fifth and sixth respectively ahead of Lotus' Romain Grosjean. Elsewhere, Max Verstappen again delivered a stonking drive through the field along with a few dicey, but scintillating overtakes.  The Dutchman was on course for a fine eighth place finish until an engine failure brought an end to his race.  Felipe Nasr, Daniel Ricciardo and Marcus Ericsson rounded on the top ten.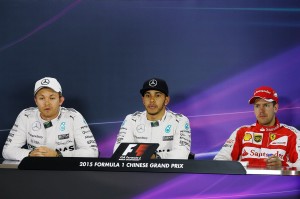 The often tense relationship between Lewis Hamilton and Nico Rosberg is not a new development given all that happened in the 2014 season. But there is a marked difference in the tension at the start of this season. For all three races Rosberg has been second-best to Hamilton and it's starting to show in his demeanour. The German accused his teammate of deliberately driving at a slow pace so as to force him into the clutches of Vettel.  He blamed Hamilton for compromising his race and aired his unhappiness at the "incident" in the post race press conference.
Whether it was deliberate ploy by Hamilton is inconsequential. He started the race with the goal of winning and achieved it. Anything that happened behind is of no significance to him.
Here's a wild idea for next time – perhaps Rosberg could up his pace and pass the much-to-slow Hamilton. Whinging in a post-race press conference is so unbecoming.
Lewis Hamilton image credited to @MercedesAMGF1