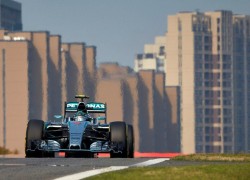 After Mercedes' Lewis Hamilton took victory at the Chinese Grand Prix, team mate Nico Rosberg lashed out at the Briton in the post race press conference claiming that Hamilton compromised his race by backing him into 3rd placed Sebastian Vettel.
At a point in the race Rosberg came onto the radio and told his engineer that Hamilton should pick up the pace. This was a rather curious message from Rosberg. Hamilton's engineer then instructed Hamilton to pick up the pace which he eventually did. But this still left a bitter taste in Rosberg's mouth.
At the press conference Rosberg responded to Hamilton's comments about the race.
"It's now interesting to hear from you Lewis that you were just thinking about yourself with the pace at the front," he said,
"Unnecessarily, that was compromising my race, because driving slower than was maybe necessary at the beginning of stints meant Sebastian was very close to me.
"That opened up the opportunity for Sebastian to try that early pitstop to try and jump me, and then I had to cover him.
"First of all it was unnecessarily close with Sebastian and also it cost me a lot of race time as a result, as I had to cover him.
"And my tyres died at the end of the race because my stint was so much longer.
"So I'm unhappy about that."
Hamilton seemed unfazed by this and calmly responded to Rosberg.
"It's not my job to look after Nico's race," he hit back.
"My job is to manage the car and bring the car home as healthy and fast as possible.
"That is what I did.
"I didn't do anything intentionally to slow any of the cars up. I just focused on myself.
"If Nico wanted to get by he could try, but he didn't."
Executive Director for Business at Mercedes Toto Wolff said that Hamilton's first responsibility is to ensure a good result for the team. Hamilton needs to balance whats best for him and whats best for the team. They will discuss this internally and look at the factors around the situation before making a call.
The full transcript of the conversation is available here.