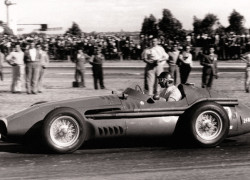 Five-time Formula One world champion Juan Manuel Fangio's body will be exhumed for a paternity test, following an Argentinian judge's ruling just days before the 20th anniversary of Fangio's death.
Fangio died on July 17, 1995 and had never married nor left behind any known children. However, Oscar Espinoza, the son of Fangio's long term partner of two decades, Andrea Berreut, has claimed that he is the son of the F1 legend. Espinoza started the lawsuit in 2013 and the ruling allowing Fangio's body to be exhumed for the DNA tests was passed down this week.
Fangio's body is buried in his hometown of Balcarce in Argentina. It will be exhumed on August 7.
Fangio is still the second most successful F1 driver in terms of world championships won, behind Michael Schumacher. Fangio won titles in 1951, and every year from 1954 – 1957. He achieved 24 race victories from 52 races.
Photo Credit: Fangio, for Maserati – photo under commons licence.