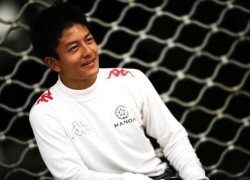 The Indonesian government is eager to secure an F1 drive for Rio Haryanto in 2016 and is putting up 15 million Euros to back the 22 year old driver.
Haryanto finished fourth in this year's GP2 championship and has his eye on a seat at the Manor F1 team. The move will most likely be boosted by news of his government's bid to back him financially.
Indonesia's Minister of Youth and Sport, Imam Nahrawi, issued a letter following a meeting in Jakarta with Haryanto's manager Piers Hunnisett.
"Regarding to our discussions with Rio Haryanto and his management, we are pleased to confirm that the Ministry of Youth and Sport of The Republic of Indonesia will guarantee a payment of 15 million Euros for Rio Haryanto to compete in the 2016 Formula 1 World Championship with the Manor Formula 1 team," it read.
"The payments will be made via several instalments in return for the branding space on the race cars and drivers race wear plus a host of promotional activities to promote Indonesia and associated companies."