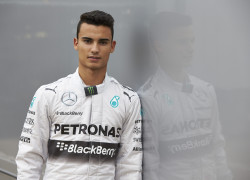 Mercedes F1 reserve driver Pascal Wehrlein will have to wait until 2016 to find out his racing fate.
The 21 year old driver is tipped to join the Manor F1 team in 2016 thanks to an engine supply deal between the team and his current Mercedes employers. However, no deal on his future will be announced this year. The German driver made history in 2015 when he became the youngest ever DTM champion.
Mercedes boss Toto Wolff did confirm that talks are being held with Manor F1 and a potential seat for Wehrlein.
"He definitely has the ability to be in Formula 1, to be one of the very successful ones, but it needs to be the right place for the right value," Wolff told Autosport.
"If we can't make it happen for '16, then we'll give him lots of mileage in an F1 car, be it with us or another team in the form of a testing programme, and then we will see what opens up for 2017."