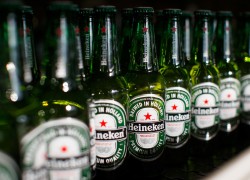 Brewing giant Heineken has confirmed a multi year global partnership with Formula One Managemen which will start this year at the Italian Grand Prix.
The sponsorship deal, according to motorsport.com, is said to be worth more than $250 Milliam over seven years. The deal gives Heineken the title partner honors for three Grands Prix in 2017. In addition to the title sponsor rights, it will also have significant track branding at few other races on the F1 calendar. Part of the deal gives Heineken exclusive pouring, activation and access rights to most of the F1 races on the calendar.
Heineken has made it clear that none of their branding will be visible on any of the cars.
Heineken will have title sponsor rights at this years Formula 1 Grand Premio Heineken D'Italia 2016.
Heineken has enjoyed much success in the Uefa Champions League and the Rugby World Cup with its fan engagement and social media presence. They're hoping to bring their experience to F1. They will launch a global "Open Your World" manifesto as well as a "If You Drive, Never Dink" campaign. Their activations will include circuit branding, TV commercials, live fan experiences, digital activations, dedicated PR initiatives and point of sale activations. David Coulthard and Sir Jackie Stewart have been chosen as ambassadors for the respective campaigns.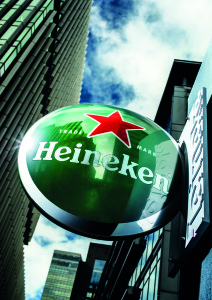 "Formula One is bigger than a race. It is a global event," said Gianluca Di Tondo the Senior Director Global Heineken Brand
"F1 represents a unique opportunity for Heineken to engage with existing and potential consumers in important growth markets," he added.
"F1 delivers in three specific areas; strong commercial opportunities; expansion of our responsible drinking platform in new and innovative ways; and enabling skill transfers between F1 and our employees.
"This partnership complements our existing global platforms, enabling us to reach F1's huge spectator numbers and 400 million unique television viewers every year."
Bernie Ecclestone, CEO of the Formula One group, said; "Heineken is a premium international brand with a super reputation for first class marketing. I am very pleased to welcome them to the Formula One family and look forward to the scale and quality of their activation at and away from F1 Events.
"We are both in the innovation and enjoyment business and I hope that this is the start of a long and special relationship. When I have a beer, I have always been happy with a Heineken".
Di Tondo has big plans to take F1 to more fans around the world. He wants to increase F1's presence in social media. Speaking to motorsport.com after the announcement he says that F1 should not be about the 2 hours of the race. "It is the 72 hours that turns cities in to playgrounds," he says. He talks about opening up the otherwise closed off world of F1 to the fans and make them feel part of the action, part of the teams.
Di Tondo acknowledges that all of this wont happen overnight. It will take months of relationship building to come to a point where Ecclestone feels comfortable enough to share more access with fans.
The changes will, however, filter through over the months and F1 will return to the fans. All that's left to do now is to stock up on some Heineken before every race.