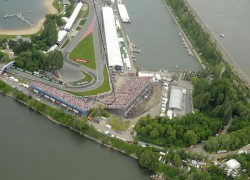 The Formula 1 circus heads to Montreal, Canada to the Circuit Gilles Villeneuve for Round 7 of the Formula 1 World Championship for the 2016 Canadian Grand Prix.
The Gilles Villeneuve Circuit has been hosting F1 since 1978. There were occasions that the race was not held or moved to another circuit but it has been the home of the Canadian Grand Prix. Built on the Île Notre-Dame, the 4.361 km, 14 corner circuit is one of the driver favorites. With little run off and barriers close to the track it is unforgiving in certain places. Like any circuit it becomes trickier when it's wet. 

Pirelli have nominated the ultra soft, super soft and soft compound tyres for this weekend. The Renault and Haas drivers have chosen not to take the super softs as part of their 13 set allocation to Canada. They will contest the weekend with softs and ultra soft tyres. Other drivers have some kind of a balance between the tyre choices. Mercedes have gone with 8 sets of the ultra soft while Haas have gone with 10 of the ultra soft and 3 of the soft compound. Ferrari have a more balanced selection compared to Mercedes and Red Bull have gone with 7 ultra soft, 2 super soft and 4 soft. If the weather holds up on Sunday, we're in for quite a strategic race.
The circuit is a semi permanent facility which means the grip around the circuit varies. The stop-start nature of the circuit means that tyre wear will not be high and teams may just get through the race on a one stop strategy. Overtaking, while not impossible, can be challenging at times. The popular overtaking spots are at Turn 10 before the hairpin, Turn 13 before the Wall off Champions and into Turn 1 and Turn 2.
Initial forecasts for the weekend predicted rain for race day and there was a possibility that there would be rain for the start of the race. Forecasts are now predicting that the rain will ease up before the start of the race while a 25% chance remains for the rest of the race. The weather on Friday and Saturday will be partly cloudy and mild.