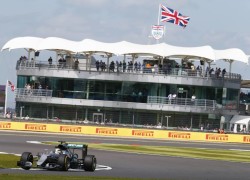 Lewis Hamilton set the fastest time of a shortened 3rd Free Practice session making it three from three practice sessions.
Mercedes team mate Nico Rosberg finished the session 2nd fastest just 0.063s off Hamilton's time. Hamilton set his best time on the soft compound tyres crossing the line in 1:30.904. Rosberg's set a best time of 1:30.967.
Building on from their Friday pace, Red Bull's Daniel Ricciardo set a 1:31.488 to finish 3rd fastest ahead of his team mate Max Verstappen who set a best time of 1:31.561.
Ferrari's Sebastian Vettel crossed the line in a very disappointed and angry 5th fastest with a 1:32.049. Clearly expecting to be faster Vettel's gesticulating as he crossed the line showed his frustration. A later radio message that his gearbox had failed shed more light on the issue. He returned to the pits to a visibly upset Ferrari team. Ferrari later confirmed that Vettel would get a new gearbox and incur a 5-place grid drop.
Valtteri Bottas ended his session in 6th fastest for Williams ahead of McLaren's Fernando Alonso. Nico Hulkenberg finished his session 8th fastest ahead of Kimi Raikkonen in 9th.
Rounding out the top 10 was Carlos Sainz in the Toro Rosso almost 2 seconds off the pace.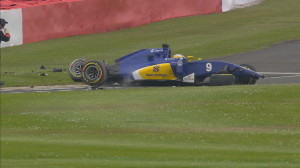 The session was considerably shortened after Sauber's Marcus Ericsson crashed at the exit of Turn 15 (Stowe). The Swede had a little over-steer moment at the exit of Stowe which sent him a bit wide. His rear left wheel got on to the astro turf laid down just after the concrete apex which caused the rear of the car to step out. Ericsson was sent careening into the adjacent barrier nose first. His car spun and the rear made contact with the barrier ripping off his rear suspension in the process. Ericsson eventually came to a rest just before Turn 16(Vale). On board replays of the crash showed the scale of the impact and it also showed the steering wheel coming off the column.
Big accident at Stowe corner small mistake wow congratulations to F1 and F.I.A safety standards with cars and barriers just amazing .

— Nigel Mansell CBE (@nigelmansell) July 9, 2016

Ericsson got out of the car and waved at the crowd to show that he was OK. He has since been taken to the hospital for a check up.
Sauber later confirmed a gearbox penalty for their driver.
Mercedes look set for another dominating performance in Qualifying. Hamilton has the upper hand on Rosberg at the moment. Mercedes should lock out the front row once again. Some rain is expected for qualifying which should mix things up a bit.
| | | | | | |
| --- | --- | --- | --- | --- | --- |
| Pos | Driver | Car | Best Time | Gap | Laps |
| 1 | Lewis Hamilton | Mercedes | 1:30.904 | 1m30.904s | 10 |
| 2 | Nico Rosberg | Mercedes | 1:30.967 | +0.063 | 18 |
| 3 | Daniel Ricciardo | Red Bull | 1:31.488 | +0.584 | 6 |
| 4 | Max Verstappen | Red Bull | 1:31.561 | +0.657 | 7 |
| 5 | Sebastian Vettel | Ferrari | 1:32.049 | +1.145 | 10 |
| 6 | Valtteri Bottas | Williams | 1:32.736 | +1.832 | 15 |
| 7 | Fernando Alonso | McLaren | 1:32.754 | +1.850 | 11 |
| 8 | Nico Hulkenberg | Force India | 1:32.795 | +1.894 | 14 |
| 9 | Kimi Raikkonen | Ferrari | 1:32.833 | +1.929 | 13 |
| 10 | Carlos Sainz | Toro Rosso | 1:32.889 | +1.985 | 10 |
| 11 | Esteban Gutierrez | Haas | 1:32.895 | +1.991 | 12 |
| 12 | Jenson Button | McLaren | 1:33.042 | +2.138 | 11 |
| 13 | Romain Grosjean | Haas | 1:33.344 | +2.440 | 13 |
| 14 | Sergio Perez | Force India | 1:33.361 | +2.457 | 13 |
| 15 | Felipe Massa | Williams | 1:33.340 | +2.536 | 14 |
| 16 | Daniil Kvyat | Toro Rosso | 1:33.538 | +2.634 | 10 |
| 17 | Felipe Nasr | Sauber | 1:33.710 | +2.806 | 10 |
| 18 | Jolyon Palmer | Renault | 1:33.769 | +2.865 | 13 |
| 19 | Kevin Magnussen | Renault | 1:34.049 | +3.145 | 10 |
| 20 | Rio Haryanto | Manor | 1:34.471 | +3.567 | 14 |
| 21 | Marcus Ericsson | Sauber | 1:34.551 | +3.647 | 7 |
| 22 | Pascal Wehrlein | Manor | 1:34.658 | +3.754 | 11 |