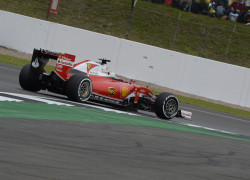 Ferrari's Sebastian Vettel and Sauber's Marcus Ericsson will get new gearboxes for the British Grand Prix weekend and will drop 5-places down the grid.
Right at the end of Free Practice 3, Vettel could be seen clapping his hands in frustration as he crossed the line. His time was good enough to put him 5th fastest but a team radio broadcast gave a better idea of his frustration. "Ok. I think we failed the gearbox once again," said the German over the radio.
Ferrari later confirmed that the German would get a new gearbox for qualifying which will drop him 5-places down the grid. This is Vettel's second gearbox change in two races.
Photo credit: Scuderia Ferrari Formula One