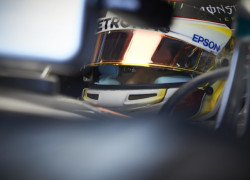 Mercedes driver and local hero Lewis Hamilton has set the quickest time in the first free practice session for Sunday's British grand prix.
The session started under overcast skies but remained dry for the entire one and a half hour session. Mercedes' Lewis Hamilton led the timing sheets by 0.033 ahead of teammate Nico Rosberg while Force India's Nico Huldenberg, Ferrari's Sebastian Vettel, and Red Bull's Daniel Ricciardo completed the top five.
There were no major incidents in the session but for the noteworthy running of the Halo 2 head protection system by Ferrari driver Sebastian Vettel. Elsewhere, Esteban Ocon and Charles Leclerc subbed in for Kevin Magnussen and Esteban Gutierrez respectively.
Final Free Practice 1 Standings: