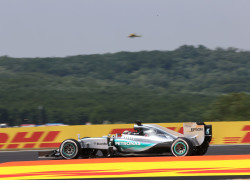 Mercedes driver Lewis Hamilton again posted the fastest time during the final practice session ahead of the Hungarian GP making it a clean sweep for the practice sessions.
Hamilton, who was also fastest in the first and second practice sessions, was the only driver to get below the 1m23s mark, posting a time of 1:22.997 on the option tyres. His time was 0.098s clear of his team mate Nico Rosberg.
Rosberg found himself walking back to his garage two minutes before the session ended after stopping at the end of the pit lane while attempting a practice start. He'll be thanking his lucky stars that this was a practice session and not the actual start of the Hungarian GP.
Mercedes continued to dominate though, comfortably clear of the rest of the pack. Ferrari's Sebastian Vettel posted the third fastest time, a full 8 tenths of a second behind the Mercedes drivers.
Daniil Kvyat finished in the fourth spot for Red Bull, ahead of Carlos Sainz Jr and Nico Hulkenberg. Young Max Verstappen came home with the seventh fastest time and Fernando Alonso was eighth. The McLarens are looking good on the soft tyres and stand a good change of getting one of their cars through to Q2 during qualifying for the Hungarian GP later today.
Daniel Ricciardo managed ninth place after going wide at Turn 5. The Red Bull drivers definitely dealing with a lot of frustration following news that they will need to wait for the Russian Grand Prix before any upgrades are made – a long wait considering the fact that Renault of not yet spent any of their development tokens this season.
Romain Grosjean beat team mate Pastor Maldonado to round out the Hungarian GP final practice.
Williams, despite their recent good form, only came in at 12th and 14th positions, with Jenson Button splitting Felipe Massa and Valtteri Bottas.
Sergio Perez – who suffered a massive accident during Friday practice, posted the 15th fastest time, while Kimi Raikkonen finished in only 16th place after a water leak prevented him from completing a proper qualifying simulation about 15 minutes before the end of the session.
Felipe Nasr and Marcus Ericsson brought their Sauber's back in only 17th and 18th places, ahead of of the Manor Marussia boys who were almost three seconds behind the Sauber team with Will Stevens putting team mate Roberto Merhi in the final placed position.
Mercedes certainly remain dominant ahead of the Hungarian GP qualifying and look on track to lock out the front row of the grid. With Williams a little further down the rankings, the Ferraris could lock up the second row with Red Bull possibly getting their heads in somewhere.
Please join us on Twitter @F1_Madness for live Hungarian GP qualifying commentary and chat at 2pm GMT+2.
Here is the full Hungarian GP final practice timesheet:
| | | | | |
| --- | --- | --- | --- | --- |
| Pos | Driver | Car | Gap | Laps |
| 1 | Lewis Hamilton | Mercedes | 1:22.997 | 12 |
| 2 | Nico Rosberg | Mercedes | +0.098s | 20 |
| 3 | Sebastian Vettel | Ferrari | +0.889s | 19 |
| 4 | Daniil Kvyat | Red Bull/Renault | +1.218s | 17 |
| 5 | Carlos Sainz | Toro Rosso/Renault | +1.329s | 22 |
| 6 | Nico Hulkenberg | Force India/Mercedes | +1.486s | 30 |
| 7 | Max Verstappen | Toro Rosso/Renault | +1.681s | 22 |
| 8 | Fernando Alonso | McLaren/Honda | +1.849s | 16 |
| 9 | Daniel Ricciardo | Red Bull/Renault | +1.932s | 12 |
| 10 | Romain Grosjean | Lotus/Mercedes | +1.944s | 22 |
| 11 | Pastor Maldonado | Lotus/Mercedes | +1.956s | 16 |
| 12 | Felipe Massa | Williams/Mercedes | +2.097s | 13 |
| 13 | Jenson Button | McLaren/Honda | +2.232s | 16 |
| 14 | Valtteri Bottas | Williams/Mercedes | +2.348s | 17 |
| 15 | Sergio Perez | Force India/Mercedes | +2.396s | 25 |
| 16 | Kimi Raikkonen | Ferrari | +2.664s | 12 |
| 17 | Felipe Nasr | Sauber/Ferrari | +3.063s | 20 |
| 18 | Marcus Ericsson | Sauber/Ferrari | +3.098s | 20 |
| 19 | Will Stevens | Marussia/Ferrari | +5.760s | 19 |
| 20 | Roberto Merhi | Marussia/Ferrari | +5.911s | 20 |