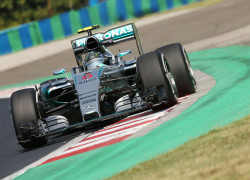 Formula 1 World Champion Lewis Hamilton stormed his way to securing the pole postion for the Hungarian GP. This is Hamilton's ninth pole position of the season for his Mercedes team.
Hamilton posted a lap time of 1:22.020 to end the session half a second quicker than his title rival and team mate Nico Rosberg.
ebastian Vettel beat his former Red Bull team-mate Daniel Ricciardo to third place by only a hundredths of a second, setting up a nice enough battle for the podium position for the Hungarian GP.
Kimi Räikkönen recovered from a water leak during final practice ahead of the Hungarian GP to line up in fifth place on the grid, ahead of fellow Finn Valtteri Bottas.
Red Bull's Dabiel Ricciardo will start in 6th place with team mate Daniil Kvyat behind him in 7th.  The Williams team disappointed with their highest position from Felipe Massa in eighth place.
Max Verstappen progressed through to Q3 and went ninth, with Romain Grosjean rounding out the top 10.
Neither of the Force India drivers made it through to Q3 as Nico Hülkenberg placed 11th, with Sergio Pérez in 13th. The duo were split by Toro Rosso rookie Carlos Sainz Jr., with Pastor Maldonado in 14th position.
Fernando Alonso made it through to Q2 but his car came to a standstill on the approach to the final corner, bringing out the red flags. Alonso tried pushing his car to the pits so that he could get back out in time but alas, remains in 15th place.
McLaren team mate Jenson Button finished the session in only 16th place, complaining about ERS deployment issues on the straight on his hot lap.
Sauber continued to struggle, finishing with Marcus Ericsson in 17th and Felipe Nasr 18th.
Manor Marussia once again occupied the final two slots as Roberto Merhi beat Will Stevens by half a second.
| | | | |
| --- | --- | --- | --- |
| Pos | Driver | Car | Gap |
| 1 | Lewis Hamilton | Mercedes | 1:22.020 |
| 2 | Nico Rosberg | Mercedes | +0.575s |
| 3 | Sebastian Vettel | Ferrari | +0.719s |
| 4 | Daniel Ricciardo | Red Bull/Renault | +0.754s |
| 5 | Kimi Raikkonen | Ferrari | +1.000s |
| 6 | Valtteri Bottas | Williams/Mercedes | +1.202s |
| 7 | Daniil Kvyat | Red Bull/Renault | +1.312s |
| 8 | Felipe Massa | Williams/Mercedes | +1.517s |
| 9 | Max Verstappen | Toro Rosso/Renault | +1.659s |
| 10 | Romain Grosjean | Lotus/Mercedes | +2.161s |
| 11 | Nico Hulkenberg | Force India/Mercedes | +1.806s |
| 12 | Carlos Sainz | Toro Rosso/Renault | +1.849s |
| 13 | Sergio Perez | Force India/Mercedes | +2.441s |
| 14 | Pastor Maldonado | Lotus/Mercedes | +2.589s |
| 15 | Fernando Alonso | McLaren/Honda | No Q2 time set |
| 16 | Jenson Button | McLaren/Honda | +2.719s |
| 17 | Marcus Ericsson | Sauber/Ferrari | +2.823s |
| 18 | Felipe Nasr | Sauber/Ferrari | +2.977s |
| 19 | Roberto Merhi | Marussia/Ferrari | +5.396s |
| 20 | Will Stevens | Marussia/Ferrari | +5.929s |