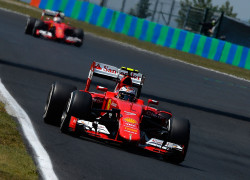 Ferrari's Kimi Raikkonen felt as though the Friday practice for the Hungarian Grand Prix was not a very clean day and that it was a slightly different Friday than normal.
The Finn finished 3rd fastest in FP1 and 5th fastest in FP2 with 23 and 30 laps respectively. While FP1 was less problematic for Raikkonen, during FP2 he suffered a front wing failure which caused a puncture on the front left tyre after driving over the front wing. The session was red flagged after the incident as there were bits of carbon fiber strewn all over the track.
"It was not a very clean day," commented Raikkonen after FP2. " In fact it was a slightly different Friday than normal."
"We had some issues and missed some running, but we were more or less able to follow our program."
With the limited running Raikkonen says that the car does not feel too bad but there is still some time to be found.
"The feeling with the car was not too bad and the tyres were behaving pretty ok, but the laptimes are still not right."
When asked about his front wing failure Raikkonen had this to say: "I don't know exactly what happened with my front wing, it just broke suddenly and came off damaging the tyre.
"The team is looking into it and hopefully they will find out the reason.
"Today it was only Friday, we had been trying many different things to see where we are. I think we can improve for tomorrow and find a bit more speed for the rest of the weekend."
On the other side of the Ferrari garage, team mate Sebastian Vettel says that the team has "a lot to clean up". Vettel, who was held up in his garage for some time in FP1 due to an electric system short, says that they could not settle into a rhythm on Friday. He does, however, feel that they will do better in qualifying and in the race.
"Well, all in all we didn't have the best day," said the German.
"There were two or three things that slowed us down and cost us some time.
"We were stuck in the garage this morning with a shortage in the electric system, and this afternoon Kimi had a problem with the front wing, so we both couldn't run as much as we wanted.
"Now there is a lot to clean up, but for tomorrow we should do well and have a decent qualifying.
"We didn't get into the rhythm today, now we need to sort out things for tomorrow, then we should have a much smoother weekend."
Photo credit: Scuderia Ferrari Formula 1