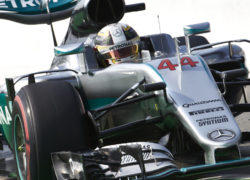 Lewis Hamilton stamped his authority all over the Italian GP weekend by claiming the pole position by nearly half a second over his Mercedes team mate Nico Rosberg.
Hamilton was fastest in Q1 and Q2 and fastest in both Q3 runs. Hamilton already had the edge over his team mate with the fastest first Q3 run but blasted his way to pole with a 1:21.135. This is Hamilton's fifth Italian Grand Prix pole and with it, which equals the record held by Ayrton Senna and Juan Manuel Fangio.
A lock up in Q2 added a small flat spot on his race tyre but Lewis did not seem too concerned about it saying that he could hardly feel it and doubted that it would have much of an effect on his race tomorrow.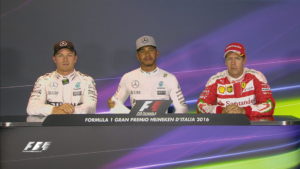 What did become very apparent was the absolute advantage that Mercedes has over its rivals this week. Sebastian Vettel finished three tenths down on Rosberg for Ferrari, with Kimi Raikkonen locking out the second row of the grid with his team mate.
Valterri Bottas staked his claim on an impressive fifth place for Williams – finished just 0.001s ahead of Daniel Ricciardo. Red Bull team mate Max Verstappen claimed the eighth grid spot ahead of the Force India duo of Sergio Perez and Nico Hulkenberg.
The Haas F1 team were very impressive and made their first appearance in Q3. Esteban Gutierrez took up the 10th place, 0.3s behind the Force Indias.
Felipe Massa who recently announced his retirement from Formula One failed to impress, failing to make it through to Q3. He had to settle for 11th place but gets a free choice of which tyres he'll start on tomorrow.
Romain Grosjean qualified 12th but a five place grid penalty for a gearbox change after FP3 will push him back to 17th place on the Italian GP grid. Fernando Alonso complained of a loss of power on his final run and finished only 13th fastest. Pascal Wehrlein put in a good show to split the McLarens and Carlos Sainz rounded out the Q2 runners.
Daniil Kvyat was not able to make it through to Q2 and set off the bleeper with a string of expletives after his run, questioning his Toro Rosso team about what had gone wrong. Felipe Nasr and Marcus Ericsson will take up the next two spots ahead of the Renaults who had a very tough qualifying session. Jolyon Palmer qualified 20th with Kevin Magnussen behind him after KMag had to run across the grass at the exit of Ascari on his final lap.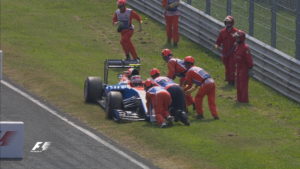 Esteban Ocon's qualifying session was over before it even started really. He was forced to park his Force India at Turn 1 as he started his flying lap. He will need to ask the stewards for permission to race, since he has no qualifying time but his practices were within the 107% mark so there should be no reason not to allow him to race.
We're not expecting much strategy-wise for tomorrow's Italian GP. For most, it'll be a quick, 1 stop race. It'll all be about the start tomorrow and both Hamilton and Rosberg are likely to have their mirrors full of Red Ferrari off the the line. Hamilton has every chance of cruising to a victory if he makes a faultless start and given his current form, and the absolutely dominant performance of his Mercedes, it's hard to think that he will not make it so.
Join us on Twitter @F1_Madness for live commentary and chat throughout the Italian GP.
Here is the final Italian GP Qualifying time sheet.