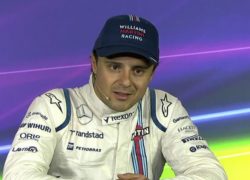 In a conference at the Monza circuit Felipe Massa has announced his retirement from Formula 1.
The conference took place with the Brazilian driver and Williams team boss Claire Williams alongside. The Massa family were also in attendance at the announcement.
Mass joined the Williams team from Ferrari in 2014 alongside Finnish driver Valtteri Bottas. His debut into Formula 1 came in 2002 with the Sauber team. He made the move to Ferrari in 2006 as replacement for fellow Brazilian Rubens Barrichello.
Massa won his first grand prix at Turkey's Istanbul circuit in 2006 and finished as runner-up in 2008 driver's world championship. Massa's victories at his home Brazilian grand prix will likely rank high up in the memory banks of the popular Brazilian.
"I must start by especially thanking my wife and my father, my whole family, my manager Nicolas and all the people who have supported me throughout my career," said an emotional Massa at the press conference.
"Thank you to God for giving me the opportunities I have had in life and, above all, for protecting me. A huge thank you as well to everyone I have worked with over the years.
"Every team I have been a part of has been a special experience, and not only in Formula One. I have so many great memories over the years and thank everyone in all the teams I have come through to help me get to where I am today.
"My career has been more than I ever expected and I am proud of what I have achieved.
"Finally, it is a great honour to finish my career at such an amazing team as Williams Martini Racing. It will be an emotional day when I finally conclude my Formula One career with my 250th Grand Prix start in Abu Dhabi."
Deputy Team Principal of Williams, Claire Williams thanked Massa for his contribution to the team for the past three years and acknowledged that it was not a difficult decision for Massa to take.
"It has been a pleasure to work with Felipe these past three seasons and we will all be sad to see him leave.
"Felipe came to us at a time of huge change and his blend of experience, talent and enthusiasm have been an important factor in the turnaround of the team.
"Anyone who knows Felipe knows what a warm and caring person he is, with an infectious personality. He has done a great deal for our sport over the years and I think every team that has had the pleasure of working with him has great affection for him.
"I know this has not been an easy decision for him, but we all respect his decision to bring his Formula One career to its conclusion at the end of this season. I would like to thank him, on behalf of all the team, for all his hard work over the last three years and we wish him the best of luck for whatever the future holds.
"He will always be a member of the Williams family and we hope that he will always feel welcome within our team."
.@Massa_Felipe19 has announced that he will retire from @F1 at the end of this season #ItalianGP pic.twitter.com/iCZwLqGXwr

— WILLIAMS RACING (@WilliamsRacing) September 1, 2016