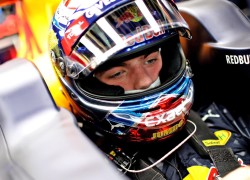 Red Bull's Max Verstappen and Ferrari's Kimi Raikkonen Belgian grand prix where left it tatters after a first corner incident which also involved the Ferrari of Sebastian Vettel.
However it's another incident between the two that demands some attention. As Verstappen and Raikkonen set about recovering they once again came across each other on the circuit. As the two exited Eau Rouge Raikkonen lined up Verstappen's Red Bull for a pass on the Kemmel straight only for the teenager's 'defensive move' to force the Ferrari driver to brake in order to avoid a collision.
"I'm up for a fair battle and close racing but when I have to back off after Eau Rouge on the straight [and] I have to brake not to hit him, because he turns after when I move first time, that I think it's not correct," said Raikkonen after the race. "And unfortunately there will be a big accident because of that."
From the incident it appears as if Verstappen is first watching his mirrors and then changing his line. Because the following car is in the leading car's slipstream he will always pull out as late as possible to attempt an overtake. Since Verstappen moves after this point it gives Raikkonen minimal time to brake or react to avoid hitting him. There wouldn't be justification for labeling Verstappen's driving as dangerous if he picks a side, blocks it and then moves back onto the racing line. However, it is the fact that Verstappen's move is reactionary rather than anticipatory which is what makes the Red Bull driver's move potentially dangerous.
There will be those who will offer the argument that there was no collision therefore it cannot be considered dangerous. However, the argument cannot be that this type of so-called defensive driving is acceptable as long as it avoids a collision. Furthermore, Kimi Raikkonen has vast experience with indisputable spatial awareness, and is a man with absolutely no bullshit. So when a driver like that levels criticism at another driver you can bet that it's justified.
In an interview with Dutch television Verstappen was quoted as saying that the two Ferrari's messed up his race in turn one. "I'm not just going to let them pass. I'd sooner run them off the track," he said.
Max Verstappen is young and a talent with, possibly, an exceptional Formula 1 career ahead of him. But he must respect his fellow drivers and the boundaries of racing and sportsmanship. If he is going to continue in this vein and keep pushing the boundaries of what is acceptable it is going to end in something that is unacceptable.