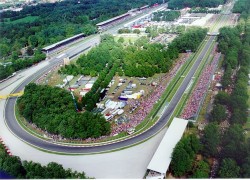 Most would agree that the Autodromo Nazionale Monza is one of the most unique circuits on the F1 calendar. It's uniqueness doesn't just stem from one thing either.
When you describe Monza as a classic it is a literal description as the first grand prix it ever hosted was in 1950. It may have undergone a few tweaks but every legend that has ever inscribed their name in the folklore of Formula 1 history has raced around this circuit. The infamous Ferrari one-two for  Gerhard Berger and Michele Alboreto in 1988, to Sebastian Vettel first grand prix win in 2008, to the emotional announcement of Michael Schumacher's (first) retirement here in 2006.
The layout too is another factor which adds to Monza's uniqueness. The long straights places an overwhelming demand on a low downforce setup and pushes the engine to its absolute limit. There are some quite famous twiddly bits in between which demand precision on braking and good traction. "People often think that Monza is all about the straights, with tight, small corners – but that's not really true: corners like the Lesmos, the Ascari chicane and Parabolica are big, fast corners that require precision and commitment. It's a great track," says McLaren's Jenson Button.
And then there is the Tifosi. Ferrari's fanatically passionate supporters who only see red. Ferrari's 2016 season has made for some uncomfortable viewing and that's without the two red cars swopping paint. Despite this, there will be high expectations for the Italian team this weekend. Ferrari are determined to meet the expectation head on and are expected to role out an engine upgrade this weekend in the hopes of thrilling their Tifosi.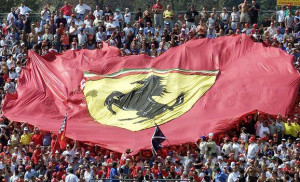 However, as far as beating rivals go putting one over them on home soil as hallowed as Monza is always going to rank high on the priority list regardless of the era. Therefore, Mercedes will be more determined than ever to climb onto the top step of the podium on Sunday. The Italian circuit has always been a favourite of Hamilton who currently holds a nine point lead over teammate Rosberg and a significant advantage where spare power unit elements are concerned.
Red Bull performed well in Belgium but will find the going a bit tougher given the extra emphasis on engine power. Dutchman Max Verstappen arrives in any paddock with a bunch of attention how there will be a bit of a different air to it in Italy after his shenanigans at Spa. It won't bother him though, nothing much seems to get under the 18 year old's skin…yet.
If a definition for pure, unadulterated passion is being searched for then look no further than the Italian grand prix. It is passion defined. And should a red car make it to the chequered flag first expect an outpouring of emotion and elation the likes of which have not been seen in many a year.