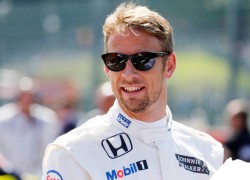 Jenson Button has announced that he will not be racing in Formula 1 in 2017.
The 2009 champion announced at a press even on Saturday that he will not be driving for McLaren in 2017. However, the Brit confirmed that he will remain with the team in a team and car development role.
"I'm delighted that I'll be staying on as a key member of the McLaren-Honda team. In fact I'm massively excited about my new role, which has come about as a result of a number of in-depth chats with Ron," said the Brit at the press conference after qualifying on Saturday.
"Specifically, I'm looking forward to becoming even more deeply involved in the team's efforts to bring about the success we've all been striving to deliver.
Button squashed any rumours that have tipped him for a Williams drive in 2017.
"I love McLaren-Honda – I firmly believe it's made up of the best bunch of people I've ever worked with – and I have no intention of ever driving for another Formula 1 team."
He made it clear that he is not retiring from Formula 1 and confirmed that McLaren has the option to call him back to the cockpit in 2018.
"To be clear, I'm very definitely not retiring. I'm contracted for both 2017 and 2018, I intend to work hard on car-development, and I'm sure I'll get behind the wheel of the new car at some point."
Belgian driver Stoffel Vandoorne has been announced as Button replacement and will race alongside Fernando Alonso in 2017.
"First of all, I want to express my gratitude to everyone at McLaren-Honda, and especially Ron, for showing faith in me.," said Vandoorne.
"It's an enormous honour to become a McLaren-Honda race driver, and I promise to work as hard as any Formula 1 driver ever has before.
"I already know the team extremely well – they're a fantastic group of extremely clever people – and I've already raced the car once and tested it often
"I have total confidence in the potential of the McLaren-Honda project, and I firmly believe that, racing alongside a brilliant and experienced driver, I'll be able to make a strong contribution to the team's future World Championship successes.
"There are a lot of other people whom I'd like to take this opportunity to thank – too many to list in fact. So all I can say is: you know who you are, and thank you."