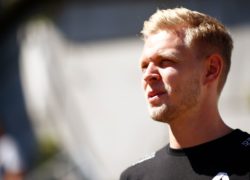 The Haas F1 Team confirmed that Kevin Magnussen will drive for the Kannapolis based team from 2017.
This announcement follows the announcement that current Haas driver, Esteban Gutierrez will not be driving for the team from next year. Rumors and reports have been circulating for a few weeks that Kevin Magnussen will make the move to Haas while Jolyon Palmer will remain at Renault for 2017. The latest announcement finalises the driver line up for Haas for 2017 which leaves Manor (2 seats), and Sauber(2 seats) to confirm their driver line up for 2017.
"This is a fantastic opportunity and I'm very happy to be a part of Haas F1 Team," Magnussen said.
"Obviously, I'm confident in my abilities as a Formula One driver, but I'm also very confident of what Haas F1 Team can do in its second season and every season thereafter.
"Gene Haas has come into Formula One with a strong vision and a different way of doing things. He's making it work and work well. I've had a good vantage point all season long, and I'm looking forward to getting behind the wheel of next year's Haas VF-17."
Founder and Chairman of Haas F1, Gene Haas had this to say about Magnussen's appointment:
"From the time we began looking at drivers, Kevin Magnussen was always on our short list,"
"He's accomplished a lot in a very short period of time, and we feel like he can accomplish a lot with us. Our second season will bring a new set of challenges, and we feel that pairing Kevin with Romain will help us develop our new car and continue our growth.
"I want to thank Esteban Gutiérrez for all of his efforts. He's been an instrumental part of our first year in Formula One and we're looking forward to finishing the season strong with him and Romain."
"As a brand new team with a new car and new personnel, it was incredibly important to have detailed, authoritative feedback of our race car and our methods so that we could improve. Romain brought a lot of experience to our team and has been instrumental in getting us to where we are today," added Guenther Steiner, team principal, Haas F1 Team.
"Credit also goes to Esteban Gutiérrez for all of his work. His time with Ferrari was very beneficial as it helped get us acquainted with its methodologies and make the most of our partnership with them.
"He and Romain pushed each other on the track and together they're responsible for the success we've had in our first season."