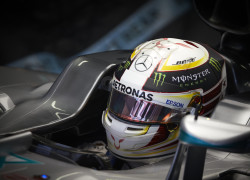 Lewis Hamilton topped the time sheets at the end of the first practice session for the Brazilian Grand Prix at Interlagos.
Hamilton set his best time of 1:11.895 on the soft tyre just marginally faster than Red Bull's Max Verstappen who set a best time of 1:11.991. Verstappen's time came mid way through the session on the soft tyres and looks like an early signal that Red Bull will be taking the fight to Mercedes this weekend.
Nico Rosberg was 3rd fastest at the end of the session setting a best time of 1:12.125 on the soft tyre, 0.230s off Hamilton's pace. Not far off Rosberg's pace was Daniel Ricciardo in the other Red Bull in 4th.
Valtteri Bottas finished 5th fastest in the Williams ahead of Sergio Perez and Nico Hulkenberg in 6th and 7th respectively for Force India. Felipe Massa, at his final F1 race in his home country, was 8th fastest.
Rounding out the top 10 were the two Ferrari's of Sebastian Vettel and Kimi Raikkonen more than 1.5s off the pace. Ferrari did not run the soft tyre in the session and stuck to the medium compound tyres. Both Ferrari drivers had just 0.002s between them at the end of the session. Vettel did not look comfortable in the car and made a few mistakes around the circuit. He spun it at Turn 11 just before the end of the session bringing an end to a very anonymous session by both Ferrari's.
Red Bull are showing some good early pace which should give Mercedes something to think about going into Qualifying tomorrow. The characteristics of the track suit the Red Bulls and Mercedes may find it tricky keeping the Red Bulls at bay.
| | | | | | |
| --- | --- | --- | --- | --- | --- |
| Pos. | Driver | Team | Best Time | Gap | Laps |
| 1 | Lewis Hamilton | Mercedes | 1:11.895s | – | 32 |
| 2 | Max Verstappen | Red Bull | 1:11.991 | +0.096s | 29 |
| 3 | Nico Rosberg | Mercedes | 1:12.125 | +0.230s | 26 |
| 4 | Daniel Ricciardo | Red Bull | 1:12.371 | +0.476s | 27 |
| 5 | Valtteri Bottas | Williams | 1:13.129 | +1.234s | 36 |
| 6 | Sergio Perez | Force India | 1:13.289 | +1.394s | 31 |
| 7 | Nico Hulkenberg | Force India | 1:13.293 | +1.398s | 33 |
| 8 | Felipe Massa | Williams | 1:13.318 | +1.423s | 33 |
| 9 | Sebastian Vettel | Ferrari | 1:13.567 | +1.672s | 24 |
| 10 | Kimi Raikkonen | Ferrari | 1:13.569 | +1.674s | 26 |
| 11 | Carlos Sainz | Toro Rosso | 1:13.711 | +1.816s | 22 |
| 12 | Daniil Kvyat | Toro Rosso | 1:14.090 | +2.195s | 15 |
| 13 | Jenson Button | McLaren | 1:14.252 | +2.357s | 27 |
| 14 | Fernando Alonso | McLaren | 1:14.296 | +2.401s | 26 |
| 15 | Romain Grosjean | Haas | 1:14.507 | +2.612s | 25 |
| 16 | Felipe Nasr | Sauber | 1:14.631 | +2.736s | 21 |
| 17 | Marcus Ericsson | Sauber | 1:14.654 | +2.759s | 23 |
| 18 | Esteban Ocon | Manor | 1:14.827 | +2.932s | 30 |
| 19 | Jolyon Palmer | Renault | 1:14.908 | +3.013s | 32 |
| 20 | Pascal Wehrlein | Manor | 1:14.948 | +3.053s | 32 |
| 21 | Charles Leclerc | Haas | 1:15.391 | +3.496s | 27 |
| 22 | Sergey Sirotkin | Renault | 1:15.800 | +3.905s | 10 |