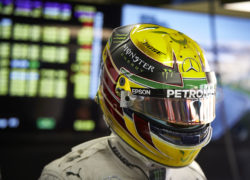 Mercedes stamped their authority on the weekend after Lewis Hamilton set the fastest lap of the session with team-mate, Nico Rosberg just 0.030s off the pace in 2nd.
Hamilton's best time of 1:12.271 came courtesy of the soft tyres on a qualifying simulation. Rosberg's time which was just 0.030s off Hamilton's was done on his second run at a timed lap on the soft, option tyre.
Williams sprang somewhat of a surprise in FP2 to finish 3rd and 4th. Valtteri Bottas had a best lap 1:12.761 to place him 3rd ahead of Felipe Massa who set a 1:12.789. Williams tend to turn their engines down during practice and turn them back up for FP3 and Qualifying. This turn of pace from Williams is quite refreshing and it sets the weekend up for a very good battle at the top of the field and towards the mid field. The pace will be encouraging as Williams seek to overhaul Force India in the constructors standings for 4th place.
Daniel Ricciardo finished 5th fastest ahead of Max Versatppen who was 6th fastest. Both Red Bulls were clear of the Ferrari pair of Sebastian Vettel and Kimi Raikkonen who could only manage 7th and 8th respectively with Raikkonen just a little over half a second off the pace.
Force India's Nico Hulkenberg was 9th fastest just a little over a second off the pace.
McLaren's Jenson Button rounded out the top 10 with a best session time of 1:13.299.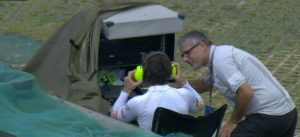 The highlight of the session came courtesy of Fernando Alonso who ended his session prematurely due to an ERS issue. Alonso was told to pull off the track and jump out of his car. He chose the outside of T3 to park his car. Alonso spent the rest of the session track side watching the cars lap the track and relaxing. Images of 2015 of Alonso resting on a camp chair enjoying the sun came to mind.
Alonso, not satisfied just watching the cars found a FOM remote camera panel and decided to try his hand at being a camera operator. This pleased everyone on track and Twitter came alive with the images of Alonso making a right hash of being a cameraman.
FP2 confirmed that Mercedes once again have a firm grip over the weekends proceedings. Hamilton does seem to have the early upper hand over Rosberg who needs a win to secure his first world title.
With the turn of pace from Williams it will be a close fight for the second row of the podium between Red Bull, Williams and Ferrari.
The long run pace up front has Mercedes ahead of the rest. Red Bull seem to be best of the rest with Williams and Ferrari very similar on pace.
Photo credit: Mercedes AMG Petronas Formula One Team