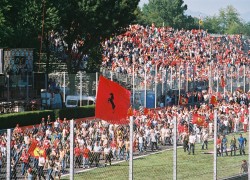 The Grand Prix Driver's Association (GPDA) has released the result of their global Formula 1 fan survey.
The overall make-up of the global survey revealed that more than 215 000 fans from 194 countries took part in the survey.  "As F1 drivers we share a passion and deep love for our sport with our fans…We want to give every F1 fan the opportunity to share that passion and for us to understand what they really think about us and our sport. We've heard the calls for fans to be consulted and this is our initiative to make that a reality," writes GPDA chairman Alex Wurz.
The survey ran from the 22nd of May through to the 8th of June 2015 with the top five represented countries listed as the UK, France, USA, Austria and Germany. The prominence of France and Germany is significant if you consider than neither of these countries currently form part of the Formula 1 calendar. It is noteworthy too that the US fans feature high up the list as Formula 1 has invested a great deal to grow its brand here.The Netherlands, Australia, Japan, Italy and Brazil comprised the rest of the top ten countries.
The demographics of Formula 1 reveal that the average age of F1 fans are between 25 and 44 years old, with their support spanning an average of ten years. Of these fans only 1 in 5 has attended a grand prix in the last twelve months. The survey revealed that the biggest motivating factor are good vantage points, pit lane walkabouts and paddock tours. It seems F1 fans would like to see an approach similar to that NASCAR takes in the US. Here, fans are able to roam around the pitlane and paddock area and in a decidedly more relaxed atmosphere interact with their favourite drivers.