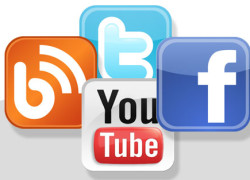 The Grand Prix Drivers Association's global Formula 1 fan survey has revealed a strong social media presence.
Of the more than 215 000 fans who participated in the survey Twitter was named as the most popular  social media platform for following the sport. Right here is where we want to give a personal shout out to all the Twitter followers of @F1_Madness. There must be some irony hidden in here about Bernie Eccelstone's reluctance to embrace social media as a necessity but we won't look to hard for it. Of all the drivers on Twitter Jenson Button is the most followed driver.
Instead, we will focus on the fact that the survey further revealed that F1 websites are listed at the number one source for fan information beating television by a five percent margin. Yet, 90% of the viewing audience however still prefer to watch their favourite sport on TV as opposed to 45% who watch it online.
The saddest statistic is that since its move to pay television  50% of those polled can no longer watch the races live. In many countries and for many fans around the world it is an unfortunate reality that there is no access to the sport. Formula 1 on its best day is the most magnificent thing in the world and in a perfect world everyone should be able to share in that bit of magic.