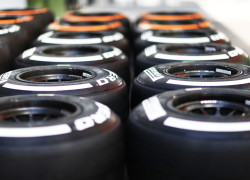 Following Pirelli's investigation into the tyre failures at the Belgian Grand Prix, Formula One Management (FOM) have issued a statement saying that Pirelli should keep doing the good job its been doing for the past 4 years.
In the statement, FOM expressed its support for Pirelli and that they have full confidence in the tyres. It comes at an interesting time where Bernie Ecclestone is deciding on a new tyre supplier for F1 from 2017.
The by FOM statement read: "Pirelli has been a first class partner of Formula One during the five seasons in which it has been the Official Supplier of Tyres to the FIA Formula One World Championship and we continue to have full confidence in the safety, quality and suitability of its tyres.
"Within the constraints of safety considerations, which are always paramount, Formula One encourages Pirelli to provide tyre compounds with performance limitations because tyre degradation contributes to the challenge and entertainment of a Formula One race. When doing so, Pirelli provides strong guidance to competitors about any performance limitations of the tyres supplied. Competitors should heed Pirelli's expert advice when setting their race strategy and tactics, and if they do not, it is at their own risk.
"We are entirely satisfied that Pirelli was not at fault for any tyre-related incidents during the 2015 Formula 1 Shell Belgian Grand Prix.
It was also revealed that Pirelli offered FOM a tyre that will last an entire race distance.
"Pirelli has offered to provide to each car a single set of tyres to last for an entire Event. While we know that they would be very capable of it, a race with no pit stops would be less exciting.
"Thank you, Pirelli, for helping us to deliver excitement to Formula One fans!"