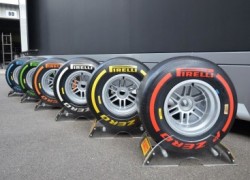 Formula One governing body, the FIA, has officially invited all interested tyre makers to tender to become F1 tyre supplier for the 2017, 2018 and 2019 FIA Formula One World Championships.
Pirelli, who are the current F1 tyre supplier, will see their deal expiring at the end of the 2016 season and will also need to tender if they wish to renew their contract.
According to an FIA statement, applications to become the sole F1 tyre supplier need to be lodged by June 17 2015 and candidates who meet the FIA's technical and safety requirements will then approached a month later for final consideration and commercial contract negotiations.
As part of plans to improve the F1 show, the FIA is considering introducing wider tyres for 2017 which they hope will contribute to plans to make F1 cars five to six seconds per lap. It says it is also open to moving to a larger wheel diameter – currently 13 inches – if the chosen F1 tyre manufacturer feels there may be advantages to the Formula One teams by doing so.
Pirelli have been the official F1 tyre supplier since the start of the 2011 season. Pirelli motorsport director Paul Hembery told the official Formula 1 website: "We are happy with our involvement with Formula One. But 2017 is a while away and we have to still be confident that the sport is going forward – and still offers the same level of return. For us it is a pure business decision."