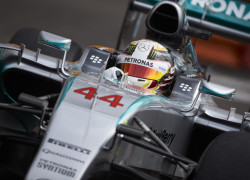 Mercedes driver Lewis Hamilton served up a double dose of dominance in today's free practice sessions ahead of qualifying for the Monaco Grand Prix.
Hamilton set the pace early on in the first practice session at Monaco with an impressive run, finishing the session 0.149 seconds quicker than – and outshone only by – Toro Rosso rookie Max Verstappen, the clear star of the FP1 show.
Verstappen, who is not even old enough to rent a car – let alone drive one unsupervised on public roads, put in a magnificent performance. Young Max, son of former Formula One driver Jos Verstappen, had never raced around the tight, twisty and very unforgiving street circuit before and team principal Franz Tost was mightily impressed.
"He went out in the morning and from run to run he improved his lap time without making any mistake. No locking, nothing. His car control and his feedback during the run was really extraordinary," he said.
Red Bull Racing team principal Christian Horner was just as impressed. "I thought it was super. For a guy that can't rent a hire car yet, it's enormously impressive, at 17 years of age.
"I think the two Toro Rosso drivers actually have done a wonderful job this year," he added. "I think it's one of the positive stories in Formula One at the moment, those two young rookies that Red Bull have given a chance.
"They're here on merit and it shows that the junior programme is most definitely working."
Meanwhile, Daniel Ricciardo placed his Red Bull in third position ahead of Ferrari's Sebastian Vettel and Spanish F1 driver Carlos Sainz Jr in the second Toro Rosso.
Pastor Maldonado ended the session in sixth place for Lotus, ahead of Red Bull driver Daniil Kvyat and Ferrari's Kimi Raikkonen.
Nico Rosberg and Williams's Felipe Massa rounded out the top 10, just ahead of the McLarens of Fernando Alonso and Jenson Button.
The track was slippery, starting off a little wet from overnight rain and several drivers had incidents in which their cars sustained damage and everyone struggled with grip due to not being able to generate enough heat in their tyres.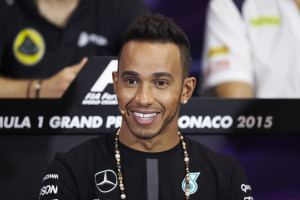 Hamilton seemed dominant throughout though and continued FP2 right where he left off after FP1. The Mercedes driver seemed to be on his own planet as the rain stopped play for much of the second practice session. He finished 0.74 seconds faster than team mate Nico Rosberg.
Sebastian Vettel and Kimi Raikkonen were third and fourth in their Ferraris, ahead of Red Bull's Daniil Kvyat.
After only about 20 minutes of dry running, Roberto Merhi lost control under braking while heading into the harbour chicane and crashing into the barriers bringing out the red flag. Before the session could be restarted, the rain flushed out any ideas of running and soaked the circuit.
A few drivers did decide to head back out at the very end of the session, including a few drivers trying out Pirelli's extreme wet tyres.
Nico Rosberg finished the session down in ninth place but Verstappen continued to impress, despite only just missing out on the sixth place on the timesheets being beaten to the position by his team mate Carlos Sainz Jr this time around.
McLaren seemed to be doing just a tad better, too – with Fernando Alonso, who is optimistic about being able to challenge for points this weekend, finishing in 7th place. Team mate Jenson Button finished 15th for the session.
There will be no practice sessions tomorrow. Please join us on Twitter @F1_Madness on Saturday morning for live coverage and chat during the third practice session, as well as qualifying for the Monaco Grand Prix!
Photo Credit: Mercedes AMG F1