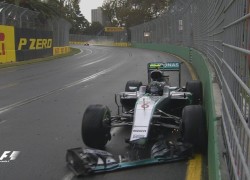 The Mercedes F1 team suffered pretty mixed fortunes in another practice session dominated by unpredictable wet weather conditions. Lewis Hamilton finished on top of the time sheets once again in FP2 ahead of the Australian Grand Prix, while his team mate Nico Rosberg suffered a crash into the barriers at turn 6 during a very wet session.
The wet weather put a real damper on FP2, with conditions only improving ever so marginally during the session. While we got to see some slick running during the first free practice session, drivers were not able to run on anything better than Pirelli's intermediate rubber during FP2.
Most teams preferred a cautionary approach with seven drivers failing to set a time and three not venturing on to the track at all for any FP2 running. Nico Rosberg's turn 7 crash early on in the session caused extensive damage to the front wing of his W07. Rosberg was forced to abandon his Mercedes track side for fear of causing further damage to the car. Team Principal Toto Wolff confirmed that Rosberg had been running one of the team's new S-duct noses. Mercedes does have spares for later in the weekend but sent Hamilton out with an old spec wing so as not to risk losing another one.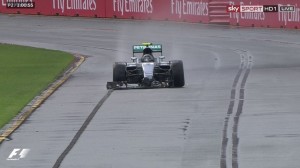 With Rosberg forced out of FP2, team mate Hamilton was left to head up the field. He posted a time of 1:38.841. The time was nearly 10 seconds slower than his top time posted for FP1. It was good enough though to finish nearly half a second clear of Nico Hulkenberg in his Force India. Force India are looking impressive – Sergio Perez had set the fastest first and second sectors before losing the rear of his car in Turn 12. There was potential for him to better Hamilton's time but as conditions worsened his chances of taking a time at the top were quickly snuffed.
Kimi Raikkonen was third quickest for Ferrari, followed by Daniel Ricciardo and Carlos Sainz. The McLaren duo of Fernando Alonso and Jenson Button followed in sixth and seventh places.
Sebastian Vettel – who had not completed a timed lap in FP1 despite being the first driver out on track – set the eight fastest time with Sergio Perez and Daniil Kvyat rounding out the top 10.
Esteban Gutierrez ended the FP2 session 11th in the Haas and Pascal Wherlein finished 12th fastest ahead of Romain Grosjean, Rio Haryanto and Rosberg. The remaining seven drivers chose not to set times and Marcus Ericsson, Felipe Nasr and Max Verstappen opted to remain in the dry comfort of their pit garages.
The weather for tomorrow is currently still rainy at times but more favourable than Friday conditions.
Photo Credits: FP2 Screenshots from Sky F1.