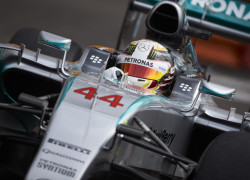 Mercedes driver Lewis Hamilton topped the first free practice session for the 2016 Australian grand prix.
The 2016 season got underway as Ferrari's Sebastian Vettel ventured out onto track with the full wet Pirelli tyres fitted to his car. Overnight rain and a consistent drizzle in the morning had ensured a wet start to the first practice session.
The track seemed to dry quickly with a blustery wind but just as driver were getting into their stride on the yellow-walled soft tyres the rain appeared once more. So it continued throughout the session which was difficult to classify either wet or dry.
Lewis Hamilton set the quickest time of the session with a 1:30:364. The Red Bull duo of Dannil Kvyat and Daniel Ricciardo were second and third as the chequered flag dropped to signal the end of the session. Rather embarrassingly, Ricciardo dropped the Red Bull into the gravel at the end of the session. Given the slippery conditions and the fact that Ricciardo was on slicks means we can give him the benefit of the doubt.
Force India's Nico Hulkenberg and Toro Rosso's Max Verstappen rounded out the top five. The 18 year old Verstappen had earlier spun his Ferrari-powered car but, luckily, didnt sustain any damage. Nico Rosberg, Fernando Alonso, Jenson Button,  and Sergio Perez rounded out the top ten.
The changeable weather conditions mean that the first free practice session of the season didnt represent anything as to how the rest of the weekend may pan out.