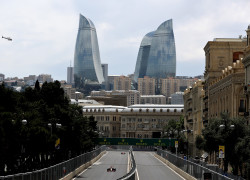 In 2016 Azerbaijan became the newest addition to the Formula 1 calendar as it hosted the country's first ever street-race in the capital city of Baku. F1's favourite designer Herman Tilke envisioned and delivered a circuit, which combined the city's uniquely historical buildings with the modern, and technical world of Formula1.
The Baku City track, the third longest of the season, is an exercise in extreme opposites. While the mid sector of exceedingly tight and twisting corners is more akin to Monaco it is in stark contrast to the enormously long straits that dominates the first and final sectors of the lap and are more reminiscent of Monza. The circuit is the first counterclockwise track on the calendar and provides one of the most picturesque backdrops seen all year.
The last time Lewis Hamilton steered his Mercedes around a proper street circuit was the Monaco grand prix. To put it mildly, thing didn't go well for the Brit on those streets. Though the Baku race is similarly contested on the streets of Azerbaijan it doesn't have too many parallels.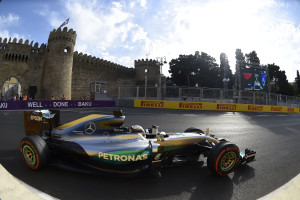 There are a few factors in Hamilton's, and to a greater degree Mercedes, favour this weekend. The longest strait on the F1 calendar will allow Merc to focus on its best feature, the engine. Further the Pirelli compounds on offer this weekend in the soft and supersoft compounds, which Mercedes favour far more than the ultra- and supersoft combo.
From last year's tyre performance it doesn't appear that degradation is a big factor in Baku, which saw driver able to run long stints and make fewer pitstops. As there are fewer opportunities for a creative pit strategy on Sunday it ultimately increases the importance of qualifying well on Saturday.
Similarly, there are a few factors that Hamilton will have to overcome this weekend in order to claw back the lead of the driver's championship. The most important of these are undoubtedly the two Ferrari's of Vettel and Raikkonen. Be it because of damage or unreliability the Canadian grand prix was a messy one for Ferrari. It was the type of grand prix that will, undoubtedly, harden their resolve of securing a good haul of points this weekend. Given their relative performance on other street circuits so far this year form dictates that the prancing horse will be no slouch around here either.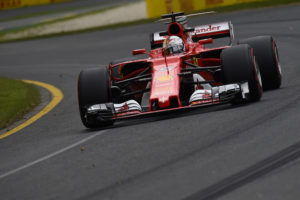 In 2016 the Italian team delivered a solid race here last year despite not being near the performance level of Mercedes. In far less competitive car than they have in 2017 Sebastian Vettel finished second while Kimi Raikkonen ran third for the majority of the race. Since the Monaco grand prix the team has vehemently denied any team orders are at work between its two drivers. It will make for interesting viewing should the Scuderia be faced with a similar scenario, to Monaco, this weekend.
Valtteri Bottas could yet prove to be a factor for Hamilton too. The Finn is currently thirty-six points adrift of his teammate and that with a retirement in Spain. His first race win, in Russia, came on a weekend when Hamilton was inexplicably off the pace and he delivered in Monaco too and he firmly believes that in a head-to-head battle he has the measure of his teammate. "I think we [Hamilton and I] are very close, I don't see a difference," he said. "I believe in myself. But he was shown up in Canada on a circuit where he is considered to be somewhat of a specialist. It's as perfect a time as any to beat Hamilton in a direct fight.