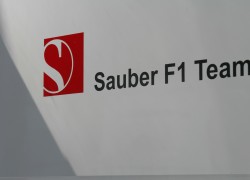 The Sauber Formula One Team have confirmed that CEO Monisha Kaltenborn is to step down with immediate effect.
Kaltenborn held the CEO position at Sauber since 2010.
The Chairman of the Board of Longbow Finance, Pascal Picci announced in a statement that Sauber and Kaltenborn have parted ways "due to diverging views of the future of the company".
"Longbow Finance SA regrets to announce that, by mutual consent and due to diverging views of the future of the company, Monisha Kaltenborn will leave her positions with the Sauber Group effective immediately," said Picci.
"We thank her for many years of strong leadership, great passion for the Sauber F1 Team and wish her the very best for the future.
"Her successor will be announced shortly; in the meantime we wish the team the best of luck in Azerbaijan."
Initial reports about the split intimated that there was a difference in opinion between Kaltenborn and Longbow finance about the treatment of the Sauber drivers. Longbow wanted preferential treatment to be given to Marcus Ericsson while. Kaltenborn reportedly disagreed with this.
Before announcing Kaltenborn's departure a statement was released by Picci blasting media reports about the equal treatment of Sauber's drivers.
"The owners and board of Sauber Motorsport AG take strong exception to speculative and widespread media reports today that our race drivers have not been, and are not being, treated equally.
"This is not only patently untrue, it would be contrary to the team's absolute and longstanding commitment to fair competition.
"These reports, attributed to anonymous "sources", are highly detrimental to both Marcus Ericsson and Pascal Wehrlein as well as to the management and all staff of the Sauber F1 Team."
Kaltenborns announcement will be made soon. According to Motorsport.com former HRT Team Principal Colin Kolles is in the running for the position.