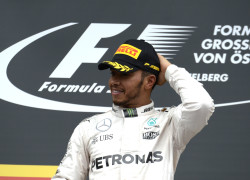 Over the course of a grand prix weekend a driver normally runs close to two hundred laps. It's uncanny then that everything can be made or undone by one lap.
In Saturday qualifying, a wet and dry session, Lewis Hamilton steered his Mercedes to pole position in dominant fashion. While teammate Nico Rosberg qualified second on the road he moved down the grid due to a gearbox penalty. It promoted Force India's Nico Hulkenberg to the second front-row starting position of his career. Ferrari's Sebastian Vettel, also hit with a gearbox penalty, fell down the starting grid, which promoted McLaren's Jenson Button to third place.
As Hamilton led cleanly from pole position it didn't take too long for Hulkenberg and Button to fall by the wayside. Ferrari driver Kimi Raikkonen, now into second, kept Hamilton relatively honest with a gap of 3.5 to 4 seconds in the first stint. A recovering Sebastian Vettel was soon running third behind teammate Raikkonen.
Ferrari's advantage rested on the fact that, as Hamilton's closest rival, Raikkonen started the race on the supersoft tyre, which, theoretically, should last longer than Hamilton's ultrasoft tyres. However, for a reason unbeknownst to most Ferrari called Raikkonen in only one lap after Hamilton's own visit to the pitlane. It dropped the Finn to sixth behind both Red Bull drivers. Ferrari's strategists, not for the first time this season, had made the wrong call.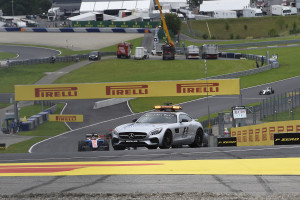 As Hamilton and Raikkonen dived intot he pitlane it left Vettel in the lead of the race. However, as the German driver started lap 27 he suffered a violent delamination to the right-rear supersoft tyre. It speared the Ferrari into the pitwall and out of the race. Ferrari do not believe that they pushed the tyres beyond their limits and Vettel's laptimes before the incident would suggest that the set of tyres were well within working range.
After a short safety-car stint to clear up Vettel's tyre debris Rosberg resumed the lead of the race on lap 32 with Hamilton in second. After both Merc driver made their second stops Nico Rosberg was delivering a drive at the Austrian grand prix worth remembering. He fought he way through to the lead of the race with consistent speed and superior strategy.
But Hamilton wasn't giving up and closed the gap to four tenths of a second on lap 67. Rosberg seemed unflustered right until the final lap of the race. The German driver made a mistake into Turn 1 handing Hamilton the advantage. Hamilton had a run on the lead into Turn 2 as Rosberg let his car run wide and made contact with Hamilton. Rosberg got off worse in the exchange as he limped home in fourth with a damaged car. The stewards imposed a 10-second penalty on Rosberg for causing a collision but he remained fourth overall. As it were Rosberg's brake-by-wire system went into passive mode on the pit-strait. However, it's clear from on-board footage that he was trying to run Hamilton wide.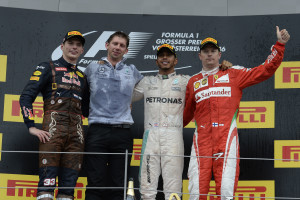 Behind race-leader Hamilton Red Bull's Max Verstappen narrowly held onto second after running a 56-lap stint on the soft tyre. Kimi Raikkonen recovered Ferrari's dubious strategy call to finish third as Rosberg limped home in fourth. Daniel Ricciardo finished fifth ahead of one of the stars of the race Jenson Button. The Brit out-performed his McLaren to finish in sixth ahead of Romain Grosjean (7th), Carlos Sainz (8th), and Valtteri Bottas (9th). The other star of the afternoon was Manor F1's Pascal Wehrlein who scored his first career point in tenth.
There is no rest of the sport that never sleeps as the F1 paddock heads straight to legendary Silverstone circuit for this weekend's British grand prix.
(All images courtesy of Pirelli Motorsport)