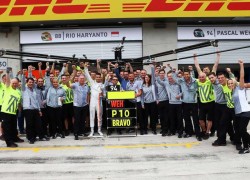 The Manor Formula One team brought home their first points finish for the 2016 Season thanks to Pascal Wehrlein.
Wehrlein who made it through to Q2 in Qualifying on Saturday ended a strong weekend for the Manor team in the points in 10th place at the Austrian Grand Prix.
The team celebrated like it was a victory for them and they will no doubt feel that the hard work that they've been putting in has finally paid off. This was their first points finish since 2014 when Jules Bianchi finished 9th for Marussia and brought home 2 championship points.
"It's incredible. I'm so happy! It's just been one of those weekends and to end it this way is a fantastic reward for everyone," said a very happy Wehrlein after the race.
"At one point I was feeling quite dejected, because we were a little unlucky with our strategy in relation to the safety car. I'd just pitted, so when I came out after my second stop, I was last.
"That wasn't such a great feeling, but we just had to work with what we had, which was Soft tyres all the way to the finish – 40 laps!
"To finish the race in the points from that position by running for more than half a race distance on a single set of tyres is an incredible achievement."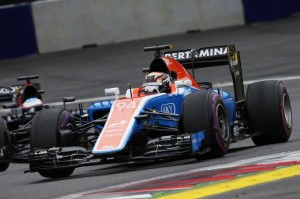 "The result is very important. Not just because of what it means for our position in the Championship, but it also shows that we have made real progress.
"It's been a step by step process, and one that hasn't always been visible to people outside of the team, but today is a good day and a really great reward for all of us."
Racing Director, Dave Ryan had this today about Manor's points finish:
"After yesterday's Q2 performance in qualifying, today's point-scoring finish is a fantastic way to end a really positive weekend.
"The most important thing about it is that it shows that we're a serious team and we're working extremely hard to improve.
"Pascal has been looking comfortable the whole time we've been here in Austria and even though there was a point in the race where things were not looking so great for him, we felt sure he would turn it around.
"That's exactly what he did and he put himself in exactly the right position to take advantage if things came his way.
"We need to keep our feet on the ground, but after an enormous amount of hard work in the first half of the season, everyone thoroughly deserves to enjoy the moment before the hard work starts again tomorrow."
Photo credit: Manor Racing Formula One Team