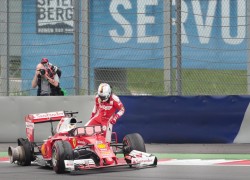 Formula One Tyre supplier Pirelli has revealed that a piece of debris was the cause for Vettel's spectacular tyre blow out at the Austrian Grand Prix.
A few minutes after the incident, Pirelli tweeted that the tyre failure was caused by debris on the track.The tweet was deleted a few minutes later and it was then announced that an investigation in to the failure would take place.
Pirelli, together with Ferrari, concluded their investigation into the tyre failure and determined that a piece of debris was the cause of the tyre failure.
"Analysis of the tyre issue that affected Sebastian Vettel at the recent Austrian Grand Prix has been concluded and the results shared with Ferrari," said Pirelli in a statement.
"The few remaining parts of the tyre in question, together with an in-depth comparison to other tyres used in the race, reveal no signs of fatigue or structural failure in the right-rear tyre itself.
"Consequently, the issue appears to be caused by an item of debris, which led to the breakage of the tyre"