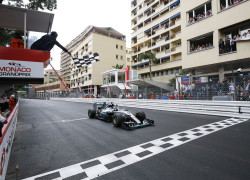 To be perplexed is to be completely baffled or mystified as to what has happened. Suffice it to say that Mercedes ensured that entire Formula 1 fraternity was left entirely stunned.
Lewis Hamilton secured his first ever pole position around the famous streets and easily led his teammate from the starting grid as the red lights extinguished. The race settled quickly and the seventy-eight laps of the Monaco grand prix appeared to be nothing more than a formality as yet another victory beckoned for Mercedes' Lewis Hamilton.
The Brit had a more than comfortable lead ahead of Nico Rosberg and was cruising towards the chequered flag. As the grand prix drew towards its conclusion Toro Rosso's Max Verstappen clipped the back of Romain Grosjean's Lotus and ploughed headfirst into the turn one barrier. The Toro Rosso teenager was given a five place grid penalty at the next round for causing a collision. It first brought out the safety-car and prompted a serious malfunction of logic on the Mercedes pitwall.
Hamilton was called into the pitlane for a new set of supersoft tyres and emerged back on track behind Rosberg and Vettel. The fresher tyres on Hamilton's car were negated by the notoriously narrow Monaco circuit as the championship leader went from assured victory to third.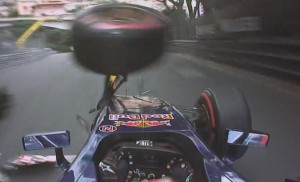 The reasoning behind the stop remains remarkably vague. As neither Rosberg nor Vettel, in third, pitted for new tyres there was nothing to cover from Hamilton's perspective who held a nearly 21 second lead.  It was a peculiar call that saw a rightly morose Hamilton on the makeshift podium. An immediate debrief within the team revealed a miscalculation of the gap between Hamilton, Rosberg and Vettel.
Call it a stroke of luck but there is much to be said for being in the right place as Nico Rosberg and his side of the Mercedes garage found out. A third consecutive Monaco victory takes Rosberg into elite company and only ten points off the championship lead.
Ferrari's Sebastian Vettel shadowed Rosberg for most of the afternoon and reaped the benefits of Mercedes mistake by securing second overall whilst holding off Hamilton. Red Bull enjoyed its best outing of the season with a fourth and fifth place finish for Daniil Kvyat and Daniel Ricciardo. Kimi Raikkonen paid for a lacklustre qualifying performance and an inability to overtake with sixth place on the day.
It was a good weekend all-round for Sergio Perez who finished seventh overall in what is effectively a 2014 Force India. After six races McLaren opened their points account with Jenson Button's eighth place finish. It's a welcome reward for the team as Fernando Alonso was once again sidelined, this time with a gearbox issue. Sauber's Felipe Nasr and Toro Rosso's Carlos Sainz rounded out the top ten.
A major talking point of the weekend was the supersoft and soft compound tyres that Pirelli rolled out for the Monaco grand prix. A pronounced lack of grip and an inability to get enough heat into the tyres was a problem up and down the pitlane.
Of late there have been rumblings that additional tyre suppliers may be brought into the equation. Pirelli, along with the likes of Michelin, will have to bid in 2017 to be the official tyre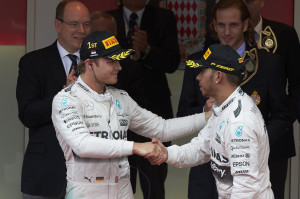 supplier of Formula 1. Several drivers confirmed that the supersoft tyre could easily do half of the Monaco grand prix and the soft, yellow-walled compound, the entire race distance. While Pirelli are following instructions as to the make-up of the compounds it certainly is not conducive to entertaining racing Formula 1 so badly seeks.
Flashback two years ago when Pirelli's supersoft tyre faced different criticism for all but falling apart after a handful of laps. In 2013, the tyres had to be coddled and cajoled, sometimes to the extreme, but even that produced a better show than the damp squib of a one-stop race with nearly indestructible tyres.
Ultimately, a race that was rather dull was infused with a dramatic plot twist that no one saw coming. While Lewis Hamilton is allowed his interlude of woe-is-me that is all it's likely to be. The 2015 version of Hamilton is, mentally, much stronger than at any other stage of his career and by the time Canada rolls around will have consigned the incident to the history books.