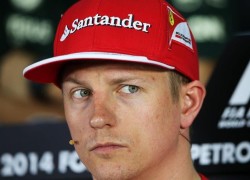 Never one to mince his words, Kimi Raikkonen has said that he believes Daniel Ricciardo should have been penalised for his move to take fifth position nearer the end of the 2015 F1 Monaco Grand Prix.
Ricciardo, on fresh tyres, attacked Raikkonen after a safety car period and passed the Finn on the inside at Mirabeau. Ricciardo made contact with the Ferrari and pushed Raikkonen wide to take the position off the Finn – a move which Raikkonen feels the Australian F1 driver should have penalised for.
"It's not very clear what you are allowed to do because sometimes you get a penalty for gaining advantage and other times you don't," he said. "There is usually a penalty for this kind of thing but this time there was not. In my mind it was pretty obvious, but the stewards think different."
And that's about as much as you'll hear from the Iceman about that.
Speaking about his pace and Ferrari's current position, Raikkonen said that the key to better results would be to qualify higher up the grid.
"Obviously we have to go away and think as something wasn't right in qualifying yesterday. Get the car working as best as we can and gain some places. Hopefully for the rest of the year we can do that and make the race a whole lot easier. On Sundays we seem to have the speed but starting in bad positions doesn't help."