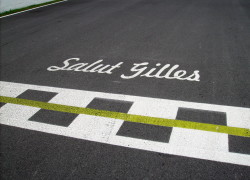 Formula 1 returns to the Circuit Gilles Villeneuve on the Île Notre-Dame for the Canadian Grand Prix and round 7 of the Formula 1 World Championship.
The Circuit is a semi-permanent facility with 13 corners most famous of which is the Turn 12 and Turn 13 chicane and the wall at the exit of Turn 13 which many call The Wall of Champions. The wall gained its notoriety after the 1999 Canadian Grand Prix after three F1 World Champions – Damon Hill, Michael Schumacher, and Jaques Villeneuve – all crashed into the wall during the race. The name has stuck since then and its been called that every since.
The track has a stop-start nature which makes fuel consumption quite high. The high speed sections are punctuated with chicanes and a hairpin. The two DRS zones follow each other with the one being after the hairpin on the run to Turn 13 with the other down the pit straight to Turn 1.
This circuit in particular is a favorite of defending world champion Lewis Hamilton. He's enjoyed relative success on around the Canadian circuit winning in 2007, 2010 and 2012. Hamilton is determined to bounce back after the Mercedes pit stop drama cost him the race in Monaco. On the other hand his team mate, Nico Rosberg, who is just 10 behind on the championship table will want to make it three victories in a row.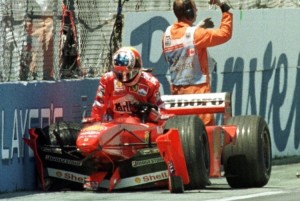 Elsewhere in the paddock it emerged that Honda and Ferrari have used some of their allocated engine tokens for the season to bring a few updates to their engines. Although it is not clear if Ferrari will use the updated engines at the Canadian Grand Prix. This after Ferrari's Maurizio Arrivabene said that he was not sure when they will bring out the updated engine and that he didn't want to give too much away.
With a definite improvement from McLaren since the start of the season and with their first points of the 2015 season at the Monaco Grand Prix, the team will be looking to build on their performance and are hoping that they've put their reliability problems behind them after two DNF's from Alonso in the past two races.
Red Bull's Daniel Ricciardo seems very upbeat ahead of the Canadian Grand Prix. The circuit is one of his favorites and after his victory last year, he cant wait to get going this year.
With the race taking place in North America we'll have slightly later broadcast times. All times are GMT+2
Free Practice 1: Friday 16:00
Free Practice 2: Friday 20:00
Free Practice 3: Saturday 16:00
Qualifying: Saturday 19:00
Race: Sunday 20:00