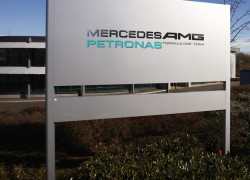 Mercedes is to institute legal action against an engineer who will be joining the Ferrari team in 2016.
Benjamin Hoyle, the engineer in question, is accused of having stolen confidential data and information. He is scheduled to join the Ferrari team at the beginning of 2016. However, Mercedes AMG High Performance Powertrains (HPP), where Hoyle was employed in December 2012, is asking that the engineer only be allowed to join the team at the conclusion of the 2016 season.
HPP claims that Hoyle removed hard copy documents containing confidential F1 information and also conducted a computer search for further information which he saved on a laptop. It is believed that amongst the data is files related to the compressor performance of HPP's F1 engines and detailed reports on engine performance.
It also being alleged that Hoyle also saved the information on his personal mobile phone, a micro SD card, a tablet, and an external hard drive. Further, Hoyle is accused of concealing his action by deleting files. HPP further claims that Hoyle's action has given both him and Ferrari "an unlawful advantage".
Mercedes AMG High Performance Powertrains Ltd has confirmed that legal action is underway.