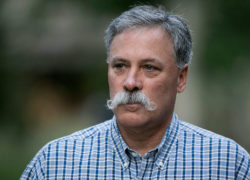 Long standing F1 chief Bernie Ecclestone will be replaced by Liberty Media's Chase Carey as Formula One Group CEO.
Liberty Media who are on the verge of a complete take over of Formula One have installed one of their own as CEO. They have, however, not left Ecclestone in the woods. They have offered him an honorary position as president. The 86-year old has said that he is not sure what that role would entail.
Speaking to German publication Auto Motor Und Sport Ecclestone said that he was deposed in a meeting on Monday.
"I was deposed today. I am simply gone. It's official. I am no longer the leader of the company.
"My position has been taken by Chase Carey.
"My new position is one of those American terms. It's something like an honorary president. I have this title now, even though I don't know what it means."
When asked about his future plans Eccelstone said that he has enough money to attend a race this season since his time in the office will be quieter.
A formal announcement is expected on Tuesday regarding Carey's appointment. It is understood that Ross Brawn will take up a role in a sporting capacity alongside former Sales & Marketing Executive at ESPN, Sean Bratches.