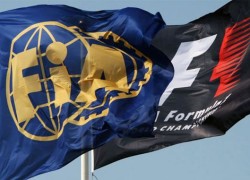 The F1 Strategy Group which met yesterday in Biggin Hill announced a few changes to the regulations for the current and future seasons in F1.
There will be restrictions on driver aids and driver coaching, especially during race starts. "Increased restrictions on driver aids and coaching received unanimous support and will be rapidly implemented, starting from this year's Belgian Grand Prix – with a particular emphasis on race starts – and in 2016," read a statement from the FIA. The FIA say that this will bring unpredictability to the sport and enhance the excitement.
The process of handing out penalties for power units, and how these penalties are applied will get an overhaul which was also unanimously agreed upon by the strategy group. The decision will need to be ratified by the F1 Commission at the World Motorsport Council next week in Mexico City. Further changes to the exhaust system on the cars are planned for 2016 to enhance the engine noise.
Staying on power engines it was also announced that new manufacturers entering the sport will receive and extra power unit per driver. This is good news for Honda and McLaren as it gives them some breathing room and it comes after both McLaren drivers were handed 25-place grid penalties at the Austrian Grand Prix.
"It was agreed to allow an extra power unit per driver in the first year  to any new manufacturer entering the championship and, for the sake of fairness, the measure will apply retroactively to Honda for the 2015 season," read the statement.
The FIA and FOM have been given a mandate to "propose a comprehensive set of measures for power unit development and cost of supply". This will include a review of the token system that is currently in place where teams are only allowed to change certain elements of the power units by using development tokens. An increase in race fuel allowance and the use of engine dynamometers was also suggested.
Teams will now be given freedom of choice of tyre compounds for race weekends. The details are being finalised with Pirelli for 2016.
It looks like cars are set to look more aggressive from 2017. According to the FIA statement some of the changes will include "wider cars and wheels, new wings and floor shape and significantly increased aerodynamic downforce has been outlined and is currently being assessed by the teams."
Finally a tweak to the race weekend format is in the works and is being evaluated by the FIA and FOM and we could see this happen for 2016. There are suggestions for a sprint race on a Saturday with a reduced number of laps for a race on Sunday. Over the years changes have been made to qualifying and practice sessions but the race format has pretty much stayed the same throughout the history of the sport. This has been billed by the FIA as "exciting and innovative"