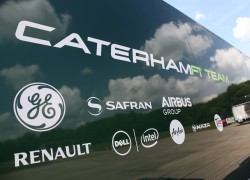 The Caterham F1 Team was given special dispensation by the FIA and the F1 Commission to use their 2014 car next season.
Although the team raced at Abu Dhabi Grand Prix, they are still under administration and could make it to the race courtesy of a crowd-funding scheme after missing the United States and Brazilian Grands Prix.
The decision to allow the Leafield based team to use their 2014 car needs to be ratified at World Motorsport Council in Doha on 3 December 2014.
"The F1 Commission and FIA agreed if it would assist the weaker teams they can use the 2014 car next year, so giving them more time and options," said Caterham administrator and Team Principal Finbarr O'Connell.
"That is of interest to all the parties I'm talking to because it gives them a choice, an easier start to get into F1 if they chose that route. It helps."
O'Connell hopes that he will be able to find a buyer for the team before Christmas. Although there is not an urgent need to find a buyer before Christmas, it would be advantageous as it allows the teams to prepare for testing which is two months away.
According to O'Connell there are three potential buyers for the team, of the three, two have expressed greater interest and seem like "strong candidates".
He does remain confident that the team can be sold.