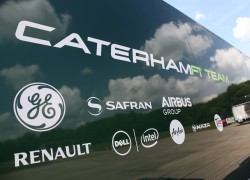 The administrators of the Caterham F1 team have launched a crowd funding campaign in a desperate attempt to raise funds to get the team to the Abu Dhabi Grand Prix.
The target is to raise £2.35 million(4.5 Million Euros) by November 14. So far the campaign has raised £320 732 from 785 backers.
The administrator form Smith and Williamson, Finbarr O'Connel who is also the interim team principal at Sauber had this to say about the campaign:"We are working non-stop to get the Caterham F1 team back racing, initially in Abu Dhabi, but hopefully that will be just a stepping stone to get it back racing on a permanent basis, under new ownership.
"In order to achieve that one of our most useful, innovative and effective options right now is crowd-funding.
"We want to get as many sponsors and fans as possible involved this week and make our comeback something we can all be part of.
A website has been setup for this campaign and fans can pledge money or buy items that belonged to the Caterham team. Anything from turning vanes(£2 200) to team overalls(£500) are for sale. You can even pay to have your name on the car(£1 000).
Some people in the paddock don't agree with the whole crowd-funding idea. Red Bull Team Principal, speaking to Sky Sports, hit out at the whole concept.
"I don't agree with the fans having to fund a team," he told Sky Sports.
"The fans pay to be entertained by the teams, they shouldn't be having to pay for a team.
"The concept of that is wrong and shouldn't be allowed."
This crowd-funding initiative was announced on the same day administrators for the Marussia F1 Team said that the team would cease trading. This situation puts Caterham in a rather interesting situation. With Marussia out of the running and with only 10 teams left on the grid (only if Caterham makes it to the final race of the season). It would mean that Caterham finish 10th in the Constructors Championship and take home the prize money for finishing 10th. What happens after that is anyone's guess. The prize money alone won't be enough for the team to make it to the 2015 grid. It will need further investment for that to happen.