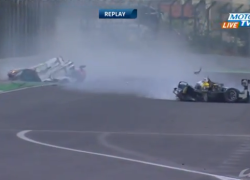 Former F1 Red Bull Driver Mark Webber was incredibly lucky to escape serious injury in a horrror crash during the 2014 WEC season finale in Sao Paolo. The Australian is reported to be in a 'satisfactory condition'.
Webber and Matteo Cressoni made contact in the final kink and both cars were sent hurtling into the safety barrier at Interlagos. Webber's car went spinning onto the track and burst into flames.
You can view the video of the crash here.
Shortly after the crash his team tweeted, "Heavy crash for @AussieGrit in #porsche919hybrid no 20. Driver is ok."
The Australian driver, who quit F1 for WEC at the end of the 2013 season, was the favourite for the race win having taken pole, however the late collision with Cressoni's Ferrari 458 on the long run up the hill after the final corner ended his hopes of securing Porsche's maiden win on its return to Sports Cars. The team did however get the maiden win with team mates Neel Jani, Marc Lieb and Romain Dumas in the sister car, taking the victory.
Webber took an extremely long time to get out of his car but when he eventually emerged, he gave a thumbs-up to the crowd before being taken to the medical centre on a stretcher.
An official statement issued by the WEC read:
"At 18h33 local, during the 6 Hours of Sao Paulo, an accident occurred between the no20 Porsche 919 hybrid of Mark Webber and no90 8Star Motorsport Ferrari of Matteo Cressoni.
Mark Webber is reported to be awake and alert and taken to the circuit's medical centre for further examination. Matteo Cressoni was examined at the side of the track and did not go to the Medical Centre.
We will issue further updates as we get them."
Interlagos has always been a special place for Webber and he was looking forward to returning to the track. Prior to the race he published on his website, "Interlagos has always been good to me, I won there twice and have been on the podium a few times so would it be great to finish my first season with Porsche in the WEC with another great result.
"It has always been one of my most favourite tracks because of the history with the drivers they've had; Senna, Piquet and Fittipaldi did a huge amount for the sport," he added. "The Brazilians love motorsport and are very passionate about it, it's got a great atmosphere and there's always been a bit of drama as well with unpredictable weather."
The Aussie suffered a major accident in the exact same spot at the very wet 2003 Brazilian Grand Prix – you can view the footage of that incredible accident here.