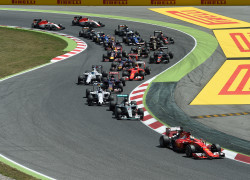 Formula 1 begins its European season and Round 5 of the Championship in Spain at the Circuit de Barcelona-Catalunya.
Traditionally in F1 the European season also sees the teams' spectacular motor homes making an appearance in the paddock but more importantly teams see the first European race of the season as a chance to bring the first round of major updates to their cars. This weekend is no exception.
Almost all the teams are expected to bring some kind of major update to their cars this weekend. Force India Boss says that with the new updates their car will look different this weekend.
The circuit is one that is well known to the teams and the drivers. Both rounds of winter testing took place there and Pirelli tested their tyres there as well. The rough surface of the track contributes to the high wear rate on the tyres and will the current 2016 test data available Pirelli have supplied the orange hard, white medium and yellow soft compound tyres. The aggressive drivers' tyre choices suggest that it could turn into a three stop race.
| | | | | |
| --- | --- | --- | --- | --- |
| | CDT | GMT+2 | GMT | Local |
| Free Practice 1: Friday | 03:00 | 10:00 | 08:00 | 10:00 |
| Free Practice 2: Friday | 07:00 | 14:00 | 12:00 | 14:00 |
| Free Practice 3: Saturday | 04:00 | 11:00 | 09:00 | 11:00 |
| Qualifying: Saturday | 07:00 | 14:00 | 12:00 | 14:00 |
| Race: Sunday | 07:00 | 14:00 | 12:00 | 14:00 |