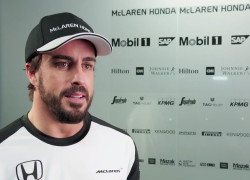 The McLaren Formula 1 Team have announced that Fernando Alonso will return to the cockpit of his MP4-30 for the Malaysian Grand Prix subject to a final FIA medical assessment on Thursday.
Alonso suffered from a concussion at the after crashing at the Barcelona test. Alonso was kept in hospital for a few days after the crash where extensive tests were carried out. He was advised by doctors not to take part in the Australian Grand Prix at the risk of another concussion.
Last week Alonso was back at the McLaren Technology Centre driving the simulator. He used the time to discuss the accident with senior engineers. Alonso said that he felt a heavy steering before crashing into the barriers.
"While there was nothing evident in the extensive car telemetry data, nor anything abnormal in the subsequent reconstructions and laboratory tests, Fernando recalls a sense of 'heavy' steering prior to the accident," read a statement from McLaren.
The team have moved to fit an additional sensor to the car to aid in further data recovery.
"Fernando is very much looking forward to getting back into the car and making a substantial contribution to our collective efforts with Honda, to accelerate the required improvement to our on-track performance."