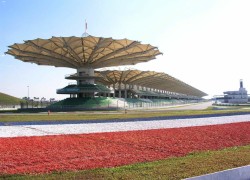 Formula 1 heads to Malaysia this week for round 2 of the Formula 1 World Championship to one of two home races for the Mercedes F1 Team.
The Malaysian Grand Prix always throws up a curve ball or two we can always depend on its unpredictability. The tropical weather may have a surprise or two for us this weekend.
With the first race out of the way the pecking order of the field is starting to take shape although we wont get a true sense of it until a few more races. From what we can tell, all the fun and action is happening behind Mercedes who are well and truly ahead of everyone. Ferrari have emerged as best of the rest for now and there has been a considerable amount of talk about the improvement that they have made. The truth of the matter is that it was just one race and one race does not a season make. If Ferrari can maintain and improve this level of performance then we can call them the best of the rest.
Williams, on pace, is not that far off from Ferrari. Technical Head at Williams Pat Simmonds has said that he feels that Ferrari are faster than them. This week however, Williams say that they should be much stronger on a purpose built track.
Red Bull are struggling with their power unit and have made their feelings very clear about how what they think about the Renault power unit. McLaren on the other hand show some encouraging signs and its been a week of good news for the team with Alonso poised to return to racing once again after his concussion ruled him out for the first race of the season.
The mid-field battle is heating up rather nicely with Toro Rosso showing some very good pace early on and with Sauber coming back into the mix. It does make things tough for Force India who seem to be on the back foot at the moment.
After software issues dented Manor's chances of turning a wheel in Australia, they will want to come out fighting in Malaysia. This will be the first time their car has turned a wheel this season and it will be interesting to see just how they fair.
Although the race is in Malaysia the times this weekend are slightly more favorable.
Free Practice 1: Friday 04:00
Free Practice 2: Friday 08:00
Free Practice 3: Saturday 08:00
Qualifying: Saturday 11:00
Race: Sunday 09:00