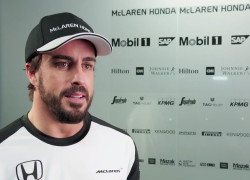 Following his crash during the final day of testing at the Circuit de Catalunya, McLaren have confirmed that their driver Fernando Alonso will remain in hospital overnight for observation as a precautionary measure.
The crash happened just before lunch time. Alonso was rounding the bend at T3 when he lost control of his car which resulted him hitting the inside barrier of T3. He was taken to the circuits medical centre after which he was airlifted to hospital.
According to the McLaren F1 Team's twitter page, Alonso was "conscious and speaking". A few hours later a McLaren spokesperson confirmed that after CT scans Alonso was uninjured and fine.
"Fernando's accident was just one of those things that happens in testing," said McLaren Racing Director Eric Boullier. "Fortunately, he's fine, but was concussed during the accident, which therefore required an overnight stay in hospital as a precaution. That's normal practice after a concussion."
"Inevitably, some media reports have sought to exaggerate the severity of the incident – it was just a normal testing accident," he added.