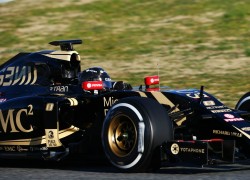 Romain Grosjean put his Lotus on the top of the time sheets at the end of the final day of the second pre-season test while McLaren's Fernando Alonso was air lifted to hospital after a crash at T3.
Grosjean's time of 1:24.067 on the soft compound tyres from Pirelli put him on top of the time sheets in the afternoon session which is also the fastest time of the entire 2nd test. Nico Rosberg in the Mercedes finished the day second fastest firing somewhat of a warning shot to rivals. Rosberg's time of 1:24.321 on the medium compound tyres, was just 0.254s slower than Grosjean's time. Pirelli say that the gap between the two tyres is about 2 seconds a lap. That should get teams shifting rather uncomfortably in their seats.
McLaren's test came to an abrupt end when Alonso went off the track and crashed into the T3 barrier. An ambulance was dispatched to the scene. He was then taken to the circuits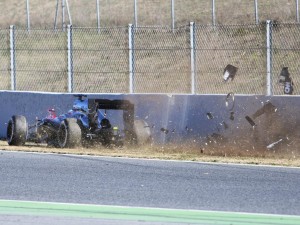 medical centre. He spent a few minutes at the medical centre and was then airlifted to a nearby hospital for further tests. After a short while, McLaren released a statement saying that Alonso was "conscious and spoke with the doctors".
The second test did not go too well for McLaren who seem to be still ironing out the kinks with the new Honda power unit. Throughout the 4 days of the test, they managed a total of 104 laps.
Red Bull's Daniil Kvyat finished 3rd fastest with Sauber's Felipe Nasr just 0.015s slower in 4th. "It was another good day for us," Kvyat explained. "We learned a lot that will be of benefit in the future and that's what testing is all about."
Williams' Valtteri Bottas ended his day 5th fastest racking up 129 laps. Toro Rosso's Carlos Sainz Jr finished 6th fastest. His day came to an early end when he also crashed at the exit of T3.
Sebastian Vettel finished 7th fastest with Nico Hulkenberg finishing 8th and Alonso 9th.
At the end of the day Vettel said that they mainly focused on long runs and different tyre configurations. There were some "teething problems" but he feels positive about the car so far.
Below is the timing sheet for the final day of the second pre-season test: