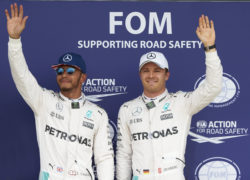 So here we are again … Mercedes drivers Nico Rosberg and Lewis Hamilton are once again head to head as we head into the season finale Abu Dhabi grand prix weekend.
These two have been at it for months and make no mistake, it's still a tight fight to the finish line. This time around though, it's Rosberg who is the clear favourite to take the F1 championship title with a 12 point lead over rival team mate Hamilton.
He may be favourite for the top spot but Hamilton could, mathematically still snatch the F1 championship title from Rosberg. It'll be a tough job. Nico is in the best position he's ever been in right now and he's preey much in control and probably feeling really confident. But if the pressure – which Hamilton already has practice in dealing with – gets too much for him, Lewis could steal the F1 championship title right from under his nose.
Don't you love it when a Formula One championship goes right to the end like this?!
Here's a quick look at the different permutations for winning the F1 championship title this weekend.
Rosberg will win the 2016 F1 driver's title if …
– He finishes on the podium in Abu Dhabi (regardless of where Hamilton finishes)
– He finishes sixth or higher, and Hamilton doesn't win
– He finishes eighth or higher, and Hamilton is no higher than third
– Hamilton finishes fourth or lower (regardless of where Rosberg finishes)
Hamilton will win the F1 championship title if…
– He wins the race, and Rosberg is fourth or lower
– He finishes second, and Rosberg finishes outside the top six
– He finishes third, and Rosberg finishes outside the top eight
For starters though, Hamilton will need to finish within the top four to stand any chance of winning the championship at all.
He's going to need a damn good qualifying for that. Rosberg's definitely the better qualifier at Abu Dhabi and Lewis needs to get ahead real early if he wants to beat Nico this weekend. Will that make either of them take unnecessary risks off the start now? One thing's for sure … they are both going to drive the heck out it this weekend! Check out our Abu Dhabi grand prix preview for more on what you can expect from the weekend.
Image credit: Mercedes AMG Petronas