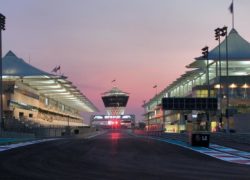 The longest F1 season in history is coming to a close at this weekend's Abu Dhabi Grand Prix at the Yas Marina Circuit.
The battle between the two title contenders from Mercedes will come to an end. Nico Rosberg just needs a podium finish to secure his first drivers title of his career. Credit should be given to Hamilton who has fought tooth-and-nail to overcome the points deficit over the past few races and has slashed the gap to just 12-points in the past three races.
All of Hamilton's hard work may or may not pay off this weekend. He'll be fighting till the chequered flag on Sunday evening. Rosberg is in championship mode racing well within the limits of the car and doing just what he needs to do.
The stop-start nature of the Yas Marina circuit plays to Red Bull's strengths. The mechanical grip out of the slow corners has been one of Red Bull's strengths throughout the season and they will be looking to make Mercedes sweat a bit.
We're not only seeing the end of the season, F1 is saying goodbye to two drivers at the end of the season, Felipe Massa and Jenson Button, arguably the two nicest guys in F1.
In the constructors championship Red Bull look like they will take 2nd place followed by Ferrari in 3rd. After their points haul in Brazil, Force India are on the verge of finishing in their highest constructors position since they started in F1.
Weather in Abu Dhabi is never really an issue. The weekend is expected to remain dry with temperatures in the 30s during the day cooling to the mid 20s in the evenings.