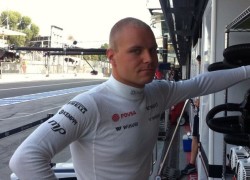 Williams' deputy principal Claire Williams says Valtteri Bottas an announcement regarding the Finn replacing Nico Rosberg at Mercedes is expected this week.
Rosberg retired shortly after winning the F1 world championship title last year, leaving Mercedes looking for a team mate for Lewis Hamilton for the 2017 season.
When Williams was asked whether it was a question of "dotting the Is and crossing the Ts," she replied: "It is exactly that."
Williams has been seeking significant remuneration for releasing Bottas from his 2017 contract and it would seem that a deal will be confirmed this week.
"It has been dragging on and I think everyone wants to know, probably more who is going to be Lewis' teammate next year, and of course when Nico made his announcement we knew the call was probably going to come from Toto," Williams said. "It is a great opportunity for Valtteri and he has given a lot to Williams. We've always said if we can make this happen on terms that are positive for Williams then it is probably the right thing to do."
Everyone is expecting Felipe Massa to come out of retirement to replace Bottas alongside F1 rookie Lance Stroll but no confirmation has been made yet.
"We are nearly there, we are at the tail end of it and hopefully we'll be able to make an announcement this coming week," Williams said at the Autosport International Show.
"But it has to be right for Williams, whatever we do will always be the right decision for Williams no matter what other people's opinions might be."
Williams has no doubt about Massa's motivation to succeed in Formula One and seems pretty certain that the Brazilian is the first (and possibly only) option to fill the gap that Bottas will leave at the Williams team.
"Felipe's heart has always been in our sport," she said. "Everyone said that about him when he joined us, 'surely his time in F1 is over, he petered out at the end of his years at Ferrari', but he came to Williams and it seemed to be a great culture for him and he was a new driver.
"I don't think he necessarily wanted to leave the sport and he did say he wanted to continue racing. These guys have been racing since they were six years old and it is in their DNA, that is what they do."
Williams also refuted claims that any deal to release Bottas was connected to the engine supply from Mercedes. There has been much speculation around Williams seeking significant discounts for their engines in return for releasing Bottas but Williams stated that this was in no way the case.
"Just because we're a customer of Mercedes, doesn't mean Toto can pick up the phone to me and I go 'alright then'," she said. "Anyone that knows me knows that I don't just go, 'alright then,' just because someone says they want something.
"We pay for our engines," she continued, "we pay on time and therefore they don't have any right to come to us and say, 'you need to release this driver for us'. If I decided not to release Valtteri, then Mercedes would be fine and say 'no problem, thank you for thinking about it'."